Philip Seymour Hoffman Death: How Will it Affect Mockingjay?
by Joel D Amos at . Updated at . Comments
Another actor has died way too young -- like the recent Paul Walker death. And like Walker's death left Fast and Furious 7 in a bind, so too has the Philip Seymour Hoffman death. Hoffman is a huge part of The Hunger Games conclusion. How will his passing affect the coming Mockingjay Part 1 and Part 2?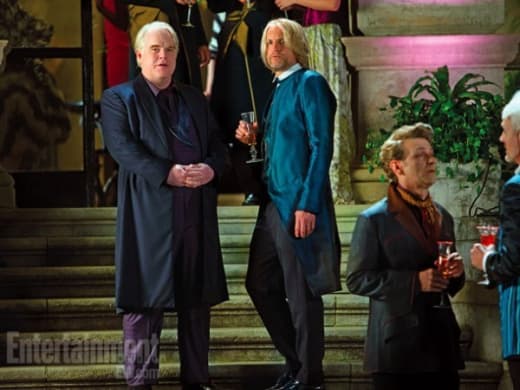 Lionsgate has stated that a "substantial" part of Hoffman's work on the film is done and that the film will not have to recast. Although his passing is way beyond sad, for fans of the series that is good news, because as we reported in our Catching Fire review, Hoffman's casting as Plutarch Heavensbee was beyond perfect.
The studio released a statement in regards to the star's death.
"Philip Seymour Hoffman was a singular talent and one of the most gifted actors of our generation. We're very fortunate that he graced our Hunger Games family," Lionsgate said in the statement. "Losing him in his prime is a tragedy and we send our deepest condolences to Philip's family."
The Hunger Games writer Suzanne Collins, Mockingjay director Francis Lawrence, producer Nina Jacobson and the franchise's star Jennifer Lawrence, also issued a combined statement on the actor's death.
"Words cannot convey the devastating loss we are all feeling right now. Philip was a wonderful person and an exceptional talent, and our hearts are breaking. Our deepest thoughts and condolences go out to his family."
Be sure to click through the slideshow below of Hoffman's life in movies, and understand what a loss the death of Hoffman is, as his talent is likely to never be seen again.