Pompeii Exclusive: Emily Browning Compares Paul W.S. Anderson & Zack Snyder
by Joel D Amos at . Updated at . Comments
Emily Browning has appeared in all sorts of films, from indies to big special effects-heavy blockbusters. 
Browning is starring in Pompeii and we caught up with her for a video interview and inquired as to the similarities between Pompeii director Paul W.S. Anderson and her Sucker Punch helmer Zack Snyder (currently working on Batman vs. Superman).
Her answer is surprising and quite informative as to how two big name directors... direct.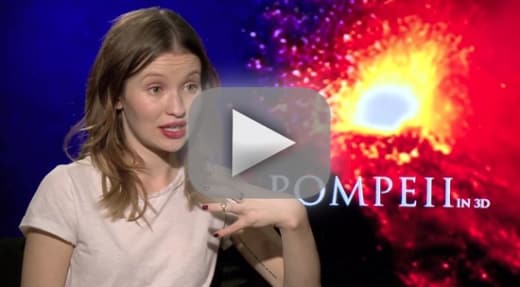 Pompeii tells the story of a couple of star-crossed lovers (Browning and Kit Harrington) finding each other... as the world seems to be ending. 
Pompeii lands in theaters this Friday. Like sword and sandal epics? See Snyder's work and watch 300 online and see Browning's description of Snyder come to life in full color!