Pompeii: Kit Harrington Says Epic Made Him "Better" on Game of Thrones
by Joel D Amos at . Comments
Game of Thrones star Kit Harrington tells us, in our exclusive video interview, that he had a unique challenge when tackling the sword fighting on the set of his new action flick Pompeii.
Director Paul W.S. Anderson had him doing more than he ever did on the HBO smash hit. "It did help as in I've held a sword before," Harrington said.
"But they are different fighting styles. Game of Thrones is very simplistic, practical. This -- because it's gladiatorial -- is somewhat showmanship… and I'm fighting with two swords!"  
For fans of his HBO show, you might see an improved swordsman battling foes as Harrington admitted that Pompeii has forced him to grow exponentially. "There's like 13 more fights [in Pompeii] than I do on a whole season of Thrones," Harrington admitted. "I learned immeasurably more than I ever had before on this film. So, when I went back to Thrones, I was better than when I left!"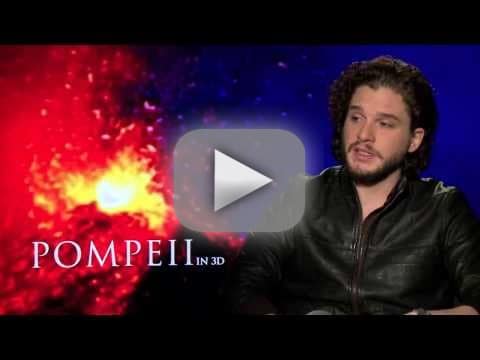 In Pompeii, Harrington plays a slave who is forced to fight as a gladiator in the titular city… that as we all know, is about to meet its fate -- otherwise known as a volcano. Along the way, Harrington's character finds love (with Emily Browning) and that aspect is the true heart of the disaster pic from Anderson.
In the mood for another slave becomes Roman fighter tale? As you're getting ready for Pompeii's Friday release, watch Gladiator online!