Ride Along arrived with Ice Cube and Kevin Hart with the highest of expectations. When we interviewed Ice Cube and Kevin Hart, they both said that they knew a sequel could happen, if audiences responded to their film.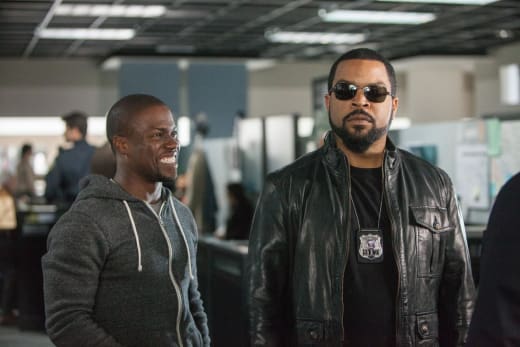 Well, with $117.2 million in box office receipts and counting, Universal is putting Ride Along 2 into high gear.
Clearly Cube and Hart will return, and we've received word that director Tim Story will come back as well. Given how hilarious and heartfelt the first film was and the fact that the story has resonated with so many, look for expectations to be uber-high for the sequel.
Hart was heading off to the police academy with the blessing of Cube's character to marry his sister at the end of Ride Along, so we're guessing that the film will borrow from the Lethal Weapon playbook and have the two pair up as partners in the follow-up.
No word on a release date for Ride Along 2, but until then… enjoy this slideshow below of our favorite Ride Along quotes!
And if you're in the mood for some Hart and Cube hilarity, watch Think Like a Man online to see Hart in action and watch 21 Jump Street online to witness the marvel that is Cube!