Having raked in over $100 million at the box office already, Ride Along will go down as one of the biggest comedies of the year. Now, we have news as to when you can expect the Kevin Hart and Ice Cube action comedy to come home on DVD and Blu-Ray.
Universal Home Video let Movie Fanatic know that we can expect the blockbuster comedy on April 15.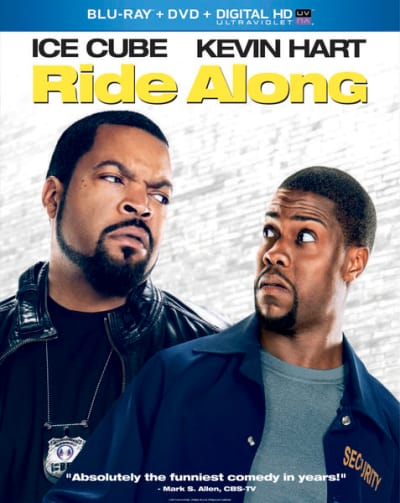 The studio also released a trailer (below) that teases just a bit of the brilliant back and forth that Cube and Hart had that made the film such a success. Heck, we already know that a Ride Along sequel is in the works and we could not be more thrilled.
But until then, check out the trailer for the Ride Along DVD and Blu-Ray release and then we'll get into what you can expect in terms of bonus features form the home video.
Bonus Features Exclusive to the Ride Along Blu-Ray:
Alternate Ending
Deleted Scenes
Alternate Take
Kev & Cube's Wild Ride: Audiences will experience Kevin Hart and Ice Cube's electrifying chemistry in a short feature that shows first hand how these two megastars fed each other creatively, how Hart's energy fueled the process,  and what he learned about dedication and focus by working with Ice Cube.
An Explosive Ride: Ever wonder what it would be like to be beaten up by Laurence Fishburne? This trip behind the scenes will expose the hilarious exchanges between the stars and their stunt doubles.
You Gonna Learn Today: An inside look at the film's many hilarious off-script moments including b-roll, dailies and alternate takes that showcase the stars' incredible comic gifts.
Anatomy of the Big Blast: Watch as the cast and crew prep for the movie's most explosive sequence!
Ride Along Blu-ray and DVD Bonus Features:
Gag Reel
It Was A Good Day: On The Set Of Ride Along:  A backstage visit puts audiences on the set of Ride Along as they share in the cast and crew's outrageously wild time.  In-your-face, first-person footage featuring Kevin Hart, Ice Cube, John Leguizamo and the rest of the cast and crew continues the fast-paced laughs and action of the film.
Atlanta – The Character:  Often called Hollywood South, the city of Atlanta plays a starring role in Ride Along as Kevin Hart, Ice Cube and crew take audiences on an exclusive tour of their 'hood.
Feature Commentary With Director Tim Story
To tease you as to the comic brilliance coming our way on home video, we present to you our favorite Ride Along quotes!