Ride Along Races to Third Straight Win: Weekend Box Office Report
by Joel D Amos at . Updated at . Comments
Ride Along just won't stop racing to box office victories as the Kevin Hart and Ice Cube-starring action comedy won its third straight weekend box office battle. Ride Along scored $12.3 million in its third weekend out, bringing its total within reach of the coveted $100 million mark. Ride Along's total gross is $93 million!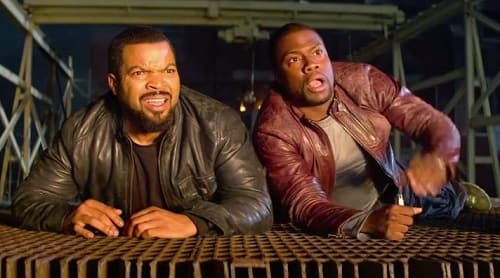 The movie that won't quit, Frozen, landed in second place. The film, in its eleventh week of release, earned $9.3 million to bring its cume to $360 million. Even though the Frozen DVD has been announced, audiences are still flocking to see the Disney masterpiece.
Third place belonged to the first of the new movies released this week to make its presence felt on the box office chart, That Awkward Moment. The Zac Efron, Michael B. Jordan and Miles Teller-starring rom-com banked $9 million in its first weekend. That figure may go up as couples looking for Valentine's Day-type fare zero in on that flick.
Coming in fourth place was another animated movie that shows no signs of slowing, The Nut Job. The Will Arnett and Katherine Heigl-starring vehicle sold another $7.6 million in tickets, bringing its total to a sequel demanding $50.2 million.
Closing out the top five is Lone Survivor. The Mark Wahlberg-starring true story earned $7.2 million in its sixth week of release.
Box office top 10:
1. Ride Along, $12.3 million
2. Frozen, $9.3 million
3. That Awkward Moment, $9 million
4. The Nut Job, $7.6 million
5. Lone Survivor, $7.2 million
6. Jack Ryan: Shadow Recruit, $5.4 million
7. Labor Day, $5.3 million
8. American Hustle, $4.3 million
9. The Wolf of Wall Street, $3.6 million
10. I, Frankenstein, $3.5 million
As you can tell, Frozen is well on its way to becoming one of the most profitable movie musicals of all time.
Click through our gallery below of 9 noteworthy movie musicals to see what other flicks have us singing (and often dancing!).