In Sex Tape, Jason Segel and Cameron Diaz play a married couple with several kids who decide to spice things up. So, they make a Sex Tape.
And then… it lands in the wrong hands. Worried about their reputations, they do anything they can to get it back. The film's first photo has arrived and it features Diaz and Segel about to start filming and she's wearing… roller skates?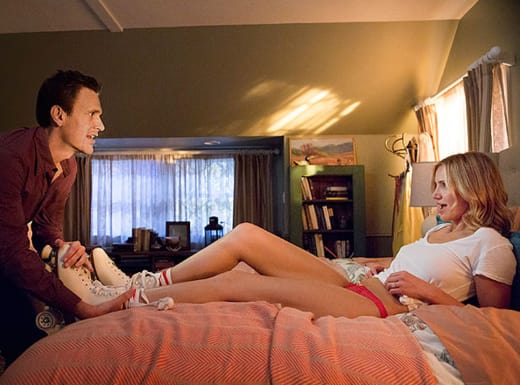 In the titular tape, they decide to reenact every position mentioned in the Joy of Sex book. And although fun at the time, now they are paying the consequences.
Sex Tape reunites Diaz and Segel with their Bad Teacher director Jake Kasdan. Check out these Bad Teacher quotes and watch Bad Teacher online to gather a hint to the explosive comic chemistry of Diaz, Segel and Kasdan!
Look for Sex Tape in theaters July 25.