The Best Man was a surprise hit when it came out in 1999. It shot right to the top of the box office charts. So, what's really a surprise is that it took so long to get us a sequel. But it's worth the wait, and now The Best Man Holiday is out on DVD, Blu-Ray and digital download.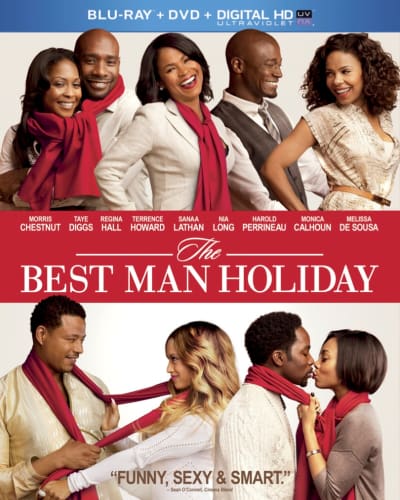 The movie features the reunion of a group of close college friends for the first time in 14 years (kind of like in real life!) and that gives us some great The Best Man Holiday quotes. They think they're going to celebrate Christmas, but wind up experiencing so much more.
The film brings back the original cast with Terrence Howard, Morris Chestnut, Taye Diggs, Nia Long, Sanaa Lathan, Regina Hall, Harold Perrineau, Monica Calhoun and Melissa De Sousa. Plus, they've added Eddie Cibrian as a love interest for Long!
As our theatrical The Best Man Holiday review stated, this is a heartwarming, hilarious and all-around fantastic film. So, that's worth the video rental or purchase right there -- but, what about those The Best Man Holiday DVD/Blu-Ray extras?
We love the fact that writer-director-producer Malcolm D. Lee included his alternative ending. No spoilers here... but given what happens in The Best Man Holiday, it is truly fascinating to see in what other direction Lee could have taken his story.
The usual deleted and extended scenes that accompany a home video release are included, but what makes these truly special is that Lee has added a commentary track to them, explaining why he made the creative decisions he did with each.
One of the most memorable scenes in the entire film is when a couple of the ladies get into it. It is a fight that was long brewing from the first film. And in the featurette Smack Talk: Filming The Girl Fight Scene, viewers get to see how it came to be and more importantly, how tough it was to execute… without anyone getting hurt!
Most comedies have the required gag reel, but with this cast possessing so much comic chemistry (heck, that's why we even got the sequel after 14 years... audiences demanded more!), it is especially joyous to witness this cast having fun with their guffaws.
Then, the best of all the bonus features is Holiday Reunion: The Making of The Best Man Holiday. The viewer gets a firsthand feel for how blessed the entire cast feels that they got to get back together with the crew that essentially launched all of their careers. 
As you can tell, we could not recommend enough to watch The Best Man Holiday online.