Ridley Scott likes to keep his audience guessing. From walking away from making a sequel to Alien, that would become Aliens, Scott has strung together a series of films since he started that all share that Scott stamp, but are clearly from a filmmaker who has refused to be defined. His latest, The Counselor, arrives on DVD and Blu-Ray and could not be more different than anything he has done before.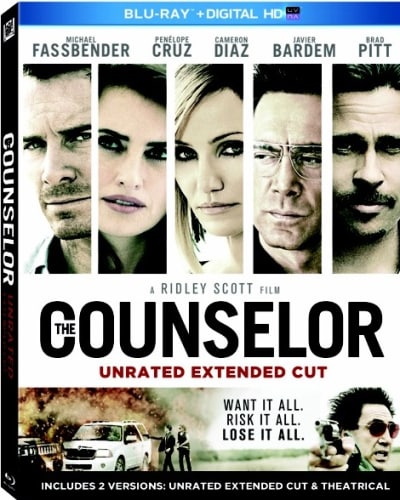 The Counselor is a drug trade crime thriller starring Michael Fassbender (soon to be seen in X-Men: Days of Future Past) who goes by no other name than the one in the title. He's a lawyer, engaged to Penelope Cruz, who is about to embark on a drug deal that will make him millions… he hopes.
Fassbender's Counselor is working on this deal with one of his clients, a balls-to-the-wall crazed performance by Oscar winner Javier Bardem, and alongside a cowboy-hat sporting Brad Pitt. Meanwhile, Bardem is married to a snake of a woman, played with over-the-top panache by Cameron Diaz.
As we stated in our theatrical The Counselor review, the film is pretty solid, but slightly misses the mark. There are holes to it, but for fans of Scott, it is still a thrill ride worth taking.
The Counselor DVD and Blu-Ray release features a never-before-seen unrated extended cut, overseen by Scott himself. And there's also over an hour of making-of footage featuring that all-star cast.
The unrated extended cut is fascinating and in fact, we wish that was what was released in the theaters. It is much more of a complete film and probably the one that is closest to what Scott had in mind when he set out to make the film in the first place. The script (previewed in these great The Counselor quotes), written by No Country for Old Men author Cormac McCarthy, truly comes to life on that extended cut.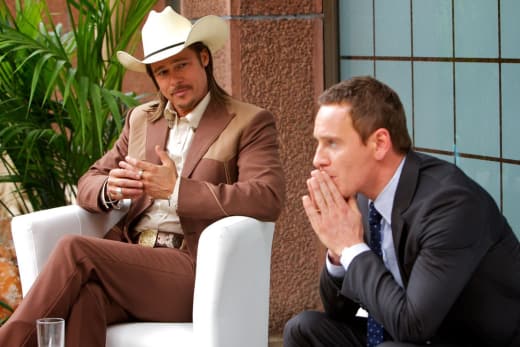 The bonus features are few, but the two provided truly give a glimpse into the moviemaking magic that is a Scott production. Truth of the Situation shows how this film, that is truly noir in so many ways, was a unique challenge for Scott… and one he relished. The Virals bonus feature is one that needs to be seen, and you'll get little more from us than… go watch it! 
And why not watch The Counselor online now!