The Jungle Book Diamond Edition Blu-Ray Review: Beyond Bare Necessities
by Joel D Amos at . Updated at . Comments
One of the most beloved Disney films of all time is landing on Blu-Ray for the very first time. The Jungle Book Diamond Edition features not only the film in the most advanced picture quality and sound quality that exists today, but it also features a slew of extras that will have the most devoted of Disney fans launching into song.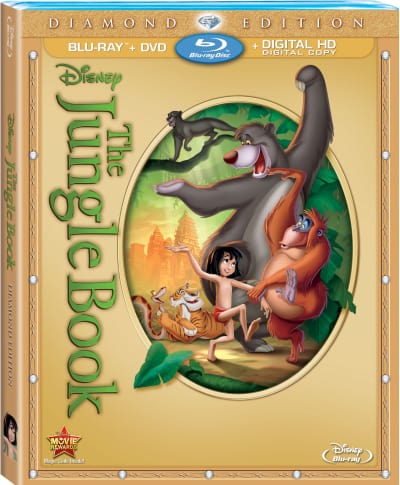 The film, inspired by the Rudyard Kipling Mowgli Stories, follows a young boy who dives into the Mowgli as he learns some of life's most valuable lessons, often from the most unexpected of places. The film featured the music of beloved writers the Sherman brothers, and the Blu-Ray features an introduction to the film by one of those iconic music men, Richard Sherman (who was just profiled in Saving Mr. Banks).
The Jungle Book Diamond Edition Blu-Ray also features a never-before-seen alternative ending, as well as an interview with Walt's daughter Diane Disney Miller.
We must admit it is something to see a beloved classic from our childhood in the most astounding colors and sounds… it is simply breathtaking. And you know you love those The Jungle Book quotes!
When it comes to new Blu-Ray bonus features, we especially appreciated the @DisneyAnimation: Sparking Creativity that showcases how the film has spawned some of the great animated works of our time. The aforementioned inclusion of Sherman and Disney Miller in Music, Memories & Mowgli: A Conversation with Richard M. Sherman, Diane Disney Miller and Floyd Norman is extraordinary for any fan of The Jungle Book, but especially any Disney fan as a whole.
And what classic Disney Diamond Edition Blu-Ray would be complete without a sing-along feature? And we get that with Bear-E-Oke Sing A Long.
And lastly, the I Wanna Be Like You -- Hangin' Out At Disney's Animal Kingdom is a fascinating look at the famed studio's newest park and has us thinking about booking those tickets… right now! And it could not be more apt, given the subject of this Blu-Ray!
Need to satisfy that Disney craving before picking up The Jungle Book Diamond Edition Blu-Ray? Why not watch Toy Story 3 online or watch Finding Nemo online?