With The LEGO Movie a bona fide blockbuster, we were not surprised when it was announced that a The LEGO Movie sequel had been green lit.
Now news has arrived that Warner Bros. has wasted no time claiming a weekend and given its follow-up a release date of May 26, 2017.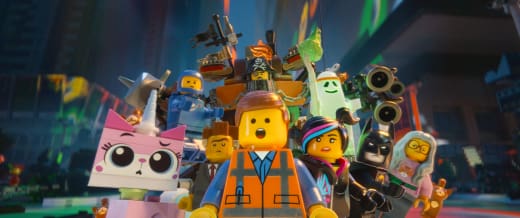 Jared Stern and Michelle Morgan have been hired to write the screenplay. The first film was written by directors Phil Lord and Chris Miller. No word on whether those two will be back, but we suspect they will be passing those duties on to someone else, just as they did with the sequel to their last animated film, Cloudy with a Chance of Meatballs.
When we talked exclusively to the animation director for the film, he told us he'd like to see the Teenage Mutant Ninja Turtles have a full role in the sequel.
We suspect they will be in it, as will a slew of others, and hopefully Will Arnett as Batman will return as well. You can count on Chris Pratt's Emmet and Elizabeth Banks' Wyldstyle coming back too. 
2017 is a long way off, but until then... click through and enjoy some of our favorite The LEGO Movie quotes!