Vampire Academy Exclusive: Sarah Hyland on Scaring Herself!
by Joel D Amos at . Updated at . Comments
Vampire Academy star Sarah Hyland is one busy actress. Her work on the TV smash Modern Family certainly keeps her days filled. So, when she has the chance to make a movie, she chooses wisely. When presented with a chance to be a part of the film based on the book series by Richelle Mead, she leapt at the chance.
The fact that she loves all things vampire doesn't hurt things either. In the pop culture world, who are her favorite vamps? 
"My favorite vampire show is True Blood -- big Eric fan," Hyland said to Movie Fanatic in our exclusive video interview. 
Given that she adores the world of those who feed on human blood and roam the night, seeing herself as a vampire in full makeup, as seen in the Vampire Academy trailer, had to be a thrill. Well, unfortunately her character Natalie isn't exactly the most menacing looking vampire of all time!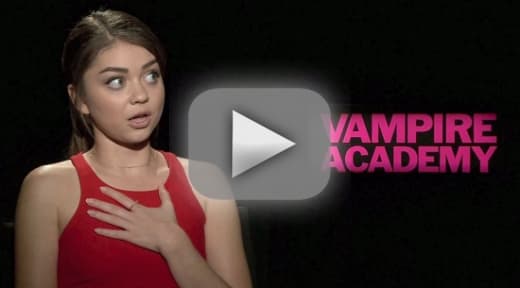 "Natalie isn't so much vampy as she is… nerdy," Hyland admitted. "Sometimes I'd get home and look in the mirror and scare myself because we'd go out afterwards and grab a quick bite to eat, and you would forget that I looked like that and I was going out in public!"
Vampire Academy follows the goings-on at a school that is specifically designed to teach and train the next generation of night walkers. Something is not right in their world... and perhaps Hyland's Natalie has something to do with it?
Can't wait for Vampire Academy to get your vamp on? Why not watch Twilight online!