Despite the ever-present nature of the cold in Winter's Tale, the film does succeed in taking a quite warm approach to romance. Based on the wildly popular novel by Mark Helprin, the story clearly has a special place in the heart of writer-director Akiva Goldsman.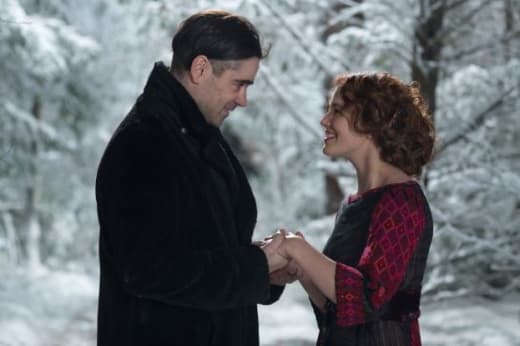 Colin Farrell stars as Peter Lake, and as the story crosses centuries it follows his unlikely romantic hero. Peter's parents felt his destiny lay in America. So, when they were turned away trying to enter the country in the late 1800s, not long into the boat ride home, they put their baby on a tiny boat and he drifted back to New York where he would grow up an orphan.
Naturally, he took to being a thief and that is how he wound up meeting Beverly Penn (Jessica Brown Findlay). She is sick, and dying from consumption. But, there is a love between those two that is immediate and... well, all consuming.
But, as Winter's Tale leaps from early 20th century to present day New York, we see Farrell's Peter and he has not aged. There is something magical at work here, and perhaps celestial is a better way of putting it.
Russell Crowe is Pearly Soames, and we meet him chasing after Peter in early 1900s New York, and he is still pursuing his perceived nemesis in 2014. We're sure the Helprin book does a much better job of explaining how these things are able to happen, but from the film we glean that it is about a far reaching battle between the devil, demons and God above. The problem is it never quite explains it fully, and therefore all the lush, romantic and passion-based battles between good and evil fall on deaf ears.
Farrell and Findlay (Downton Abbey) are quite terrific together. We believe that their love would stand the test of time… even a century. Findlay's essence hangs over the entire film, even in scenes she is not in and Farrell plays his Peter with just the right amount of verve. William Hurt stars as Beverly's father and he is, as always, fantastic. Hurt and Farrell are terrific in the scenes they share together. In fact, we wish there were more.
Crowe, on the other hand, is spotty. He sports an Irish accent that seems to come and go in terms of its effectiveness. He plays it heavy and we think that perhaps his villainy would have come off a little more effectively if it were a subtle approach, mirroring what Farrell brings to his Peter.
Winter's Tale tries to be wildly romantic, and it just falls somewhat flat. There is a great story in there, and one that should spur marvel, mystery and magic. Our Winter's Tale review reports that sadly, it is just not here.  
For a solid romance... why not watch Love Actually online. That's one that brings enough heat to thaw any winter's day.