American Hustle DVD Review: David O. Russell Rocks the Casbah
by Joel D Amos at . Updated at . Comments
American Hustle may have gone home from Oscar night empty-handed, but it is still a feat that the David O. Russell film earned 10 Academy Awards nominations including nods for Best Picture, Best Actor, Best Actress, Best Supporting Actress and Best Director. And now… all that excellence has come home as American Hustle has arrived on DVD, Blu-Ray and Digital Download.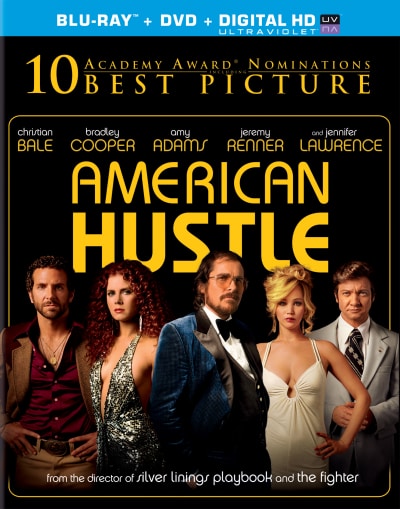 The film is fictional, but it is based on the true political scandal that brought down a New Jersey mayor and seriously influenced the political careers of several members of the U.S. House of Representatives. Seems it isn't exactly legal to take millions from an Arab sheik for building up Atlantic City!
Christian Bale and Amy Adams star as a pair of on the down low lovers (Bale is married to Jennifer Lawrence) who are pretty good at delivering a profitable con. The only issue is on one particular day, they conned the wrong person… the FBI agent played with powerful panache by Bradley Cooper.
In turn for their help bringing down a political bigwig (Jeremy Renner), they get off scot-free. But, this entire case is not black and white -- in fact, it kind of feels like entrapment.
Russell's cinematic wizardry continues after his stellar work on The Fighter and Silver Linings Playbook, as we state in our theatrical American Hustle review. The cast is up for the challenge and each gives the performance of their careers.
As seen in the American Hustle trailer, the film truly captures the spirit of the 1970s, from the clothes to the music and the feel. For fans of Russell and the cast, as well as movie aficionados in general, the American Hustle DVD, Blu-Ray and digital download is a must-own.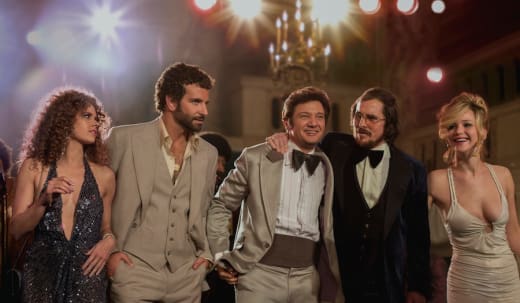 There is not a bevy of bonus features on the home video release, but what is included is intense. The Making of American Hustle featurette is a spellbinding documentary that looks at how Russell put his film together, from the cast to the crew, and chronicles the effort to bring this little known scandal into the mainstream.
With interviews with the cast and crew, the "making-of" featurette is one of the best we've seen this year on home video.
The deleted and extended scenes are interesting, but don't add too much to the overall experience. The reason to get American Hustle on home video is largely the power of the film (it was one of our top 10 movies of 2013). And if you're a fan of Russell's, that making-of featurette is worth the price alone. And you can't miss with these American Hustle quotes.
Why wait to check out this movie masterpiece... watch American Hustle online!