Cesar Chavez Exclusive: America Ferrera on "Story That Really Mattered"
by Joel D Amos at . Comments
If Cesar Chavez is a success, it is largely due to the powerful performance turned in by Michael Pena, who portrays the legendary labor leader. He is joined in the explosive turn department by the woman who plays his onscreen wife, America Ferrera.
We caught up with Ferrera for an exclusive video interview where she revealed what a professional thrill it was to reunite with her co-star from the cop drama End of Watch.
Ferrera, more than anyone right now, knows what it is that makes Pena so powerful. "He's a very intelligent actor," Ferrera admitted. "He spends a lot of time embodying the role."
The former Ugly Betty star treasured the time commuting to set together, which comes through on the screen in the powerful biopic that has long been needed.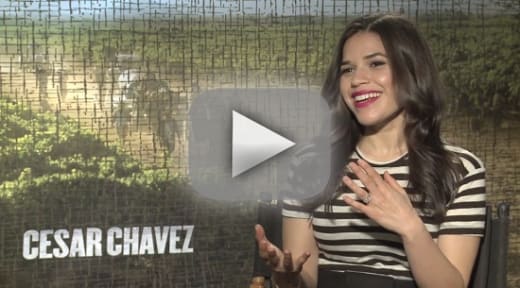 "We had a very personal experience together. It was imbued with a lot of warmth. And I think we were lucky to have known each other before to get past that getting to know you stuff," she said.
In the end, as we stated, Cesar Chavez is an important movie and one long overdue. "[Michael] and I both knew that we were telling a story that really mattered."  
As we await Cesar Chavez to arrive on screens the last weekend in March, watch End of Watch online and see why Ferrera and Pena have such powerful chemistry.