Delivery Man DVD Review: Vince Vaughn Finds Fatherhood Times 533!
by Joel D Amos at . Updated at . Comments
Taking a foreign film and remaking it for American audiences can be a tricky endeavor. But, Vince Vaughn sought to make the French Canadian comedy Starbuck and the smartest thing he did was to insist that that film's writer and director do the same for his Delivery Man.
Now, Delivery Man is out on DVD, Blu-Ray and digital download.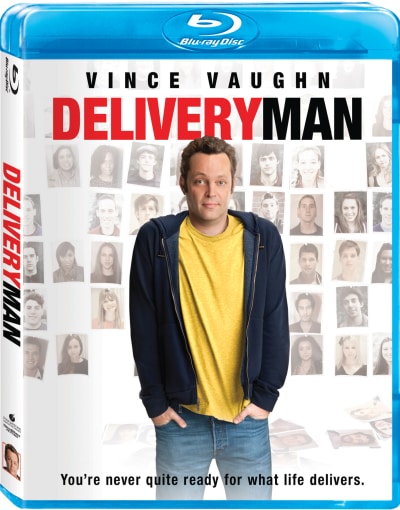 Delivery Man tells the story of Vaughn's David Wozniak. He's getting by being a delivery man for his father's Chicago meat company. He's dating Emma (The Avengers star Cobie Smulders) and they're kind of treading water -- not moving forward, not moving backwards. Then, he's got a lawyer of a best friend in Brett (Guardians of the Galaxy star Chris Pratt) who is drowning in children, but loving every minute of it.
Just as his girlfriend gives him an ultimatum to grow up or move on, he gets news that is completely out of left field and utterly shocking: He is the father to 533 children. Seems our boy was a sperm donor back in the day and the facility where he donated used his specimens over and over and the results are those hundreds of kids.
The only reason this has come to light is that several of the children have discovered this fact, and are suing the clinic to break the confidentiality agreement so they can know who their father is. Good thing David's BFF is a lawyer. But… maybe meeting them won't be such a bad thing.
As we stated in our theatrical Delivery Man review, Vaughn is perfectly cast and this is a role that suits his talents to a "T." But, what is surprising is how heartwarming the film is as well. Yes, it has its outrageously funny moments… but they are all peppered with heart.
The film did decent business in theaters, but the arrival of Delivery Man on DVD, Blu-Ray and digital download should introduce this film to a wider audience.
The bonus features are solid, and not one is a wasted effort. Vince Vaughn: Off the Cuff gives us a front row seat to the supreme talent that is this comedian who can improv as well as channel deep emotions. The I Got the Part featurette is also a joy in that it showcases one of the most hilarious moments of the film, and simultaneously delves deeper into the wider meaning and message of Delivery Man.
Lastly, there is a blooper reel and a deleted scene (You are Under Arrest). Both don't add too much to the entire package, but are a nice addition for kicks and giggles.
Why not watch Delivery Man online right now!