Divergent: Shailene Woodley Talks "Bumps and Bruises" of Action Movie
by Joel D Amos at . Updated at . Comments
Divergent star Shailene Woodley talked to someone she admired before accepting the role in the franchise starter based on the blockbuster book series by Veronica Roth. And that superstar would be The Hunger Games star Jennifer Lawrence.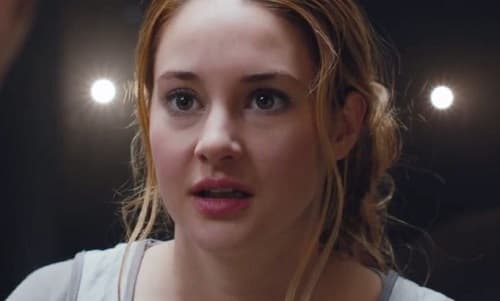 "I sent her an email. I was curious… she'd gone from doing indie films to Hunger Games and I wondered if it had changed her life," Woodley told Movie Fanatic recently.
"She said, 'Don't do anything stupid. Don't do drugs or go to Whole Foods the day the movie opens and you'll be fine. Yeah, there can be some hard things that come with it, but the amount of beauty and positivity that come with it will transcend any of the other complications.'"
When we talked to her for The Spectacular Now, we immediately could tell that Woodley had a good head on her shoulders. She told us at the Divergent press day that a lot of it has to do with her parents and how she was brought up.
"A lot of it was the way I was raised by my parents who are both psychologists. Empathy and compassion were ingrained into me in a very young age. I feel like a lot of people don't learn about those values until later in life, but I was very fortunate to have two parents who made sure that they were two very important things in my brother's and my lives," Woodley said.
"They said as long as I stay the person they thought I was, had fun and did good in school, then I could keep doing it."
As teased in the Divergent trailer, Woodley plays Tris. In this dystopian future, war has gutted society over 100 years ago and Tris and her family live amongst the survivors in Chicago. Their society is broken down into five virtue-based factions. As our film begins, Tris and thousands of others are about to take a test to determine where they will live, work and grow as human beings for the rest of their lives.
To say that Woodley identified with Tris and her situation is a gross understatement. "A lot of who Tris is resonated with me. When I was her age, I was going through a lot of those struggles. I had to balance being compassionate and empathetic toward my peers and also living my life for myself," Woodley said.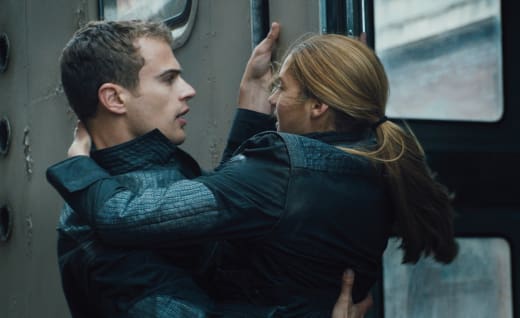 "She was raised in a society where she had to be selfless and then join a faction that's all about being selfish -- she had to find the balance between that."
One of the most iconic scenes in the book, and the film for that matter, is when Tris shows her mettle and climbs atop an enormous Ferris wheel with Theo James as Four. "It was beautiful up there. How many people can say they've actually climbed up a Ferris wheel?" she wondered. Sure, it was freezing, but who cares?!
There is plenty of action in Divergent. One of the most exciting sequences features Tris and her colleagues jumping off of trains.
"That was a little painful. But when you sign on to an action movie, if you don't get a few bumps and bruises you're not doing something right."
As Divergent is set to hit theaters March 21, Woodley will become a household name, there is no question (she is one of our 13 stars whose names everyone will know). If that happens, she will be ready.
"I just live my life for me, and I don't let anything else influence me. If it ever becomes not fun anymore, I'm quitting and doing something else. Life is too short to take yourself too seriously," Woodley said.
"I've been very lucky. I've been doing this for 17 years. It just started as a fun hobby, and I still think of it like that."