The Farrelly brothers may have taken a long time to revisit the world of Dumb and Dumber, but it appears that it could be worth the wait. Dumb and Dumber To has screened for some test audiences and the first reactions have hit the world via Twitter.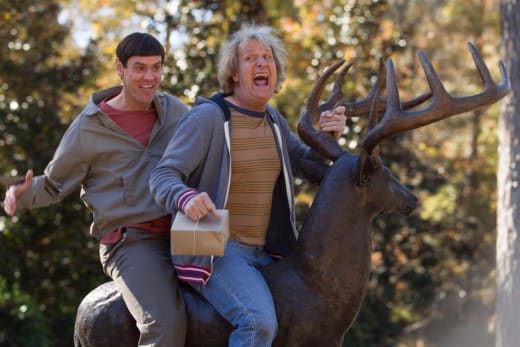 "Dumb & Dumber To is freaking AMAZING! Top 5 Jim Carrey movies," reported Myles Warden, aka @DJMighty.
The reaction to the sequel that gave us those brilliant Dumb and Dumber quotes has been largely positive, which to many might be a surprise. But, then again, it took a long time for us to get more Anchorman quotes… and that worked out pretty well with Anchorman 2!
"Dumb and Dumber To was hilarious. Everyone should watch it when it comes out!" reported His Last Vow, aka @Dalarb.
For those of us waiting for a return to the hilarious form that we all know Jim Carrey can be, Ryan Biegel has good news for you. "I was lucky enough to see Dumb and Dumber 2 yesterday. Jim Carrey is back and it's funny as hell," Biegel said via @RyanBiegel.
Although there was one detractor that appeared to be a little disappointed.
"Dumb and Dumber To wasn't as good as i thought it would be," said @tomikamirian.
But that Twitter handle was clearly in the minority from all the feeds we saw! Dumb and Dumber To hits theaters November 14. But, you can watch Dumb and Dumber online now!