When we first went to Disney to get a glimpse of their latest and to meet with Frozen filmmakers, we had a feeling they were onto something special. But, we had no idea that the film would become an Oscar-winning sensation and a billion-dollar box office smash! Now, Frozen is out on DVD, Blu-Ray and digital download for audiences to enjoy again and again… and again!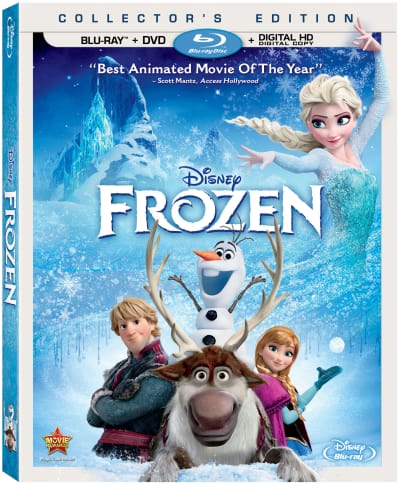 The Frozen Olaf trailer teased the story best of two sisters -- Elsa (Idina Menzel) and Anna (Kristen Bell) -- and how the film is truly the tale of two siblings and the bond that all the ice and snow in the kingdom could not separate.
Elsa is about to be anointed queen when her gift (or curse?) rears its head and sends her kingdom into a permanent icy landscape. Afraid she'll hurt someone, Elsa heads off into the wilderness and lives in seclusion in an icy castle she magically builds. Anna believes her sister can be saved, so she heads out after her… and finds help with Kristoff (Jonathan Groff) and a magical snowman named Olaf.
The animated musical is filled with magical songs, including the Oscar-winning Let it Go. But, there is so much more to this film that has made it the best animated movie of 2013 (read our theatrical Frozen review for more of our thoughts on the film itself).
Frozen is a DVD, Blu-Ray and digital download that kids will play repeatedly, but also adults, and that largely explains the film's success. And the bonus features provided in this Disney release are utterly perfect and worthy of a fantastic film.
D'frosted: Disney's Journey from Hans Christian Andersen to Frozen is a compelling journey that chronicles the famed studio's effort to bring their version of The Snow Queen to life for decades. It took filmmakers Chris Buck and Jennifer Lee (who wrote the film) plus producer Peter Del Vecho to make it happen and fate is a funny thing. After watching this bonus feature, one can see that all it took was the right people to bring the tale to life… and boy, did they achieve something truly magnificent.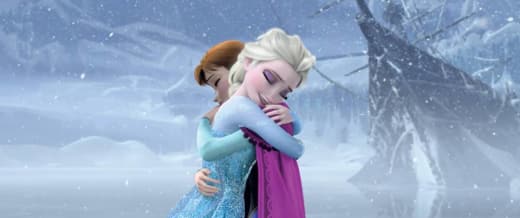 Breaking the Ice: The Real Making of Frozen will fascinate animation aficionados, both young and old. The Disney magic is on full display here as the viewer is taken on the journey to make this instant classic, from idea to full-fledged cinematic experience. This featurette is a priceless vignette that is not to be missed.
And don't get us started on the four deleted scenes! Usually these are an also-ran that is added to a home video release. But, on the Frozen DVD package, the quartet of cut scenes only enhances the overall viewing experience and they are ones to treasure. We can see why they were cut for time, but having them on this DVD, Blu-Ray and digital download is pure joy, especially with the introduction by Buck and Lee.
The Oscar-nominated short film that appeared before Frozen in theaters is also included. Get a Horse brings Disney icon Mickey Mouse back to the forefront and it is a visual stunner that could not have been a more perfect addition to the entire Frozen experience. 
And you don't have to wait one second to witness the movie's magic... watch Frozen online right now!