Frozen Is Highest Grossing Animated Movie of All Time!
by Joel D Amos at . Updated at . Comments
We knew that Frozen would top The Lion King as the highest grossing animated movie of all time --- it was just a question of when. Well, that time is now. Over the weekend, as Noah won the box office, something much bigger and more historic happened -- Frozen hit the $1,072.4 billion worldwide mark and broke that animated movie record.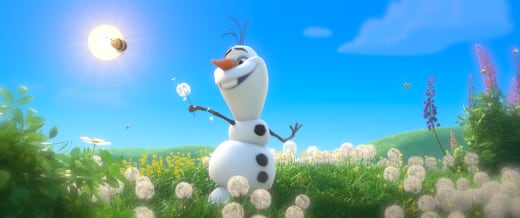 Frozen also cracked the coveted list of top 10 highest grossing films of all time and became Walt Disney Studios' seventh billion-dollar release in its history. On all fronts -- that's some heady company for the movie that first teased us with that amazing Frozen Olaf trailer!
The Kristen Bell-Idina Menzel animated classic also is not just piling up money as it scored the honor of Best Animated Feature and Best Original song for Let it Go at this year's Academy Awards.
What else is interesting to note, Frozen stayed on the top 10 box office charts for 16 straight weeks and that is the longest run for any film since 2002!
Watch Frozen online and be sure to check out our favorite Frozen quotes below. 
And it's also easy to see why it's one of our 9 animated movies that need a sequel!