Inside Llewyn Davis DVD Review: Coen Brothers Sing a Folk Song
by Joel D Amos at . Updated at . Comments
The Coen brothers bring the affection to folk music to life with their latest, Inside Llewyn Davis. The Oscar-nominated film is out now on DVD, Blu-Ray and digital download. For fans of the guys who gave us Fargo, Raising Arizona and our favorite -- which you can see when you watch The Big Lebowski online -- they can truly do no wrong.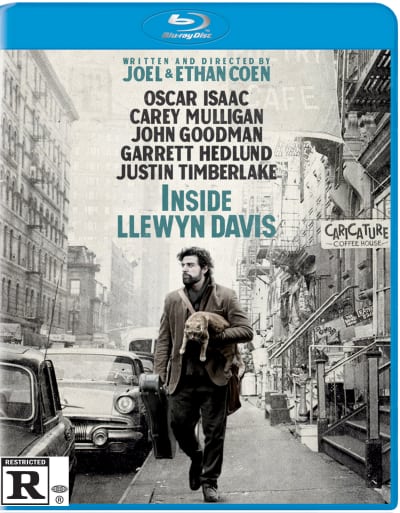 But, there is something truly special and astonishing about Inside Llewyn Davis, a tribute to the folk music scene of Greenwich Village of the early 1960s. Leading the charge of what is truly amazing about this film is its star, Oscar Isaac, who plays the title character… which we reported in our theatrical Inside Llewyn Davis review.
Isaac portrays Davis, who is a man who has seen better days. He's a folk singer-songwriter who may be living in the music genre's mecca, Greenwich Village in the 1960s, but his life is not going so well. He is homeless. He got his friend's girlfriend (Carey Mulligan) pregnant. And his agent can't seem to find him a gig. But, he tries and he sings his heart out… and the soundtrack is stellar.
T. Bone Burnett provided the music and the longtime collaborator of the Coen brothers has truly outdone himself with Inside Llewyn Davis. There is something about the creative collaboration between the filmmaking siblings and the musician that explodes off the screen. We can't imagine Oh, Brother, Where Art Thou? without the music that Burnett put together. See, they are a match made in heaven.
When it comes to bonus features on the Inside Llewyn Davis DVD and Blu-Ray, there is only one… but it is 40 minutes of mastery!
Inside Inside Llewyn Davis – Making of Documentary features the Coen brothers, Burnett as well as Isaac and co-stars Mulligan, Justin Timberlake, John Goodman, F. Murray Abraham and musical contributor Marcus Mumford (of Mumford and Sons)… all extolling the virtues of this fantastic film and in many ways the joy of the folk music scene of that time itself. 
Check out the magic and watch Inside Llewyn Davis online!