Mr. Peabody & Sherman Slows Need for Speed: Weekend Box Office Report
by Joel D Amos at . Updated at . Comments
Well, guess audiences did not share Aaron Paul's Need for Speed as the surprise of the weekend box office was the arrival of the animated Mr. Peabody and Sherman to the top spot. It was last week's box office number two, behind 300: Rise of an Empire, and those two movies switched places this week as 300: Rise of an Empire landed in second.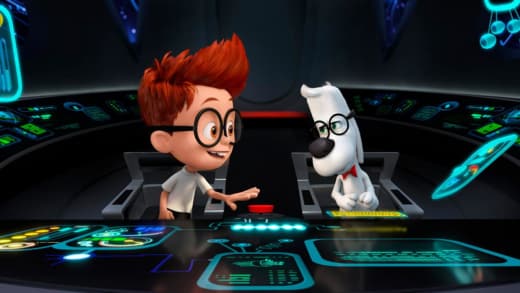 Mr. Peabody & Sherman banked $21.2 million in its second week of release, bringing the Ty Burrell-starring DreamWorks Animation/20th Century Fox film's total to $63.2 million.
300: Rise of an Empire took the second spot with its $19.1 million haul… bringing its cume to $78.3 million.
Third place found the Paul-starring film, based on the video game. The action movie took in $17.8 million in its premiere week. Right behind it at number four was a previous number one, Liam Neeson's Non-Stop. It added $10.6 million to its total of $68.8 million in three weeks… further proving Neeson's box office power has not lessoned at all.
Fifth place was the second big release of the week, Tyler Perry's The Single Moms Club. The Lionsgate release closed out the top five with $8.3 million.
So, how did the third big release of the week do? The Kickstarter funded, highly anticipated Veronica Mars leap to the silver screen disappointed with $2 million in its first week. Guess that means the film that was set up for a sequel… likely will not get one.
Box office top 10:
1. Mr. Peabody & Sherman, $21.2 million
2. 300: Rise of an Empire, $19.1 million
3. Need for Speed, $17.8 million
4. Non-Stop, $10.6 million
5. Tyler Perry's The Single Moms Club, $8.3 million
6. The LEGO Movie, $7.7 million
7. Son of God, $5.4 million
8. The Grand Budapest Hotel, $3.6 million
9. Frozen, $2.1 million
10. Veronica Mars, $2 million
Oh, and notice those The LEGO Movie quotes are still keeping that movie chugging in the top 10!
Check out our favorites!