Nebraska may have gone home empty-handed from those six Oscar nominations, but that doesn't take away anything from the stellar achievement that the Alexander Payne film achieved. The story of a father and a son, who reconnect on a road trip to the titular state, stars Bruce Dern and Will Forte and is utterly unforgettable. Nebraska has arrived on DVD and Blu-Ray, so now's your chance to check out one of the nine Best Picture nominees at home!
Besides Best Picture, Nebraska also scored nominations for Best Director (Payne), Best Actor (Dern), Best Original Screenplay by Bob Nelson (giving us those awesome Nebraska quotes), Best Supporting Actress (for June Squibb, who plays Dern's wife) and Best Cinematography.
The black and white film is a stunner, and as we said in our theatrical Nebraska review, it may be one of the more colorful films that landed in 2013. The story will reaffirm your faith in family and is told by Payne with humor, grace, compassion and a window into the world of the Midwest that is absolutely priceless.
The bonus features on the Nebraska DVD and Blu-Ray are fantastically paired to the tone and nature of the film. We especially enjoyed The Making of Nebraska which takes us inside Payne's filmmaking methodology and how the film came to be shot in black and white plus the special challenges that arose due to that fact. In that vein, the Shooting in Black and White featurette delves into that further and has us thinking that more filmmakers need to use the color-less format to achieve more color in their flicks!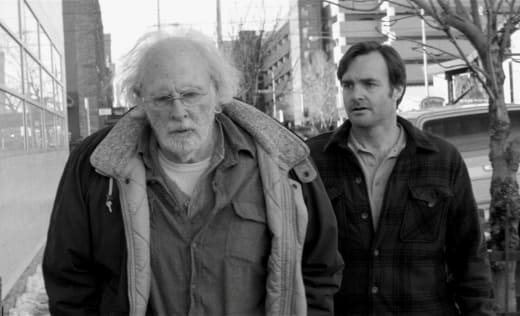 Working with Alexander is an especially powerful documentary short, given that Nebraska is truly a Payne film, through and through. The Sideways and The Descendants director is way in his element with this familial story and it is clear that Payne is paying tribute to his home state with this extraordinary story.
Lastly, A Film Family looks at the heart of the film and that is the clan that is led by Dern and Squibb. As you witness the film, it is easy to see that these actors perfectly gelled in a manner that was required of them, sure, but through mutual respect and sheer cinematic chemistry, they came together to create something truly magical.
This Oscar nominee can be watched at home… right now! Watch Nebraska online and revel in this remarkable tale.