Need for Speed Exclusive: Aaron Paul Talks Life After Breaking Bad
by Joel D Amos at . Updated at . Comments
Aaron Paul has become a household name, thanks to his star-making turn in that smash TV hit Breaking Bad.
Now, Paul is about to become known to millions more as the star of the film that is based on the bestselling car racing video game of all time, Need for Speed.
We caught up with Paul for an exclusive video interview, and note he's sitting in front of his incredible Ford Mustang from the film. Paul would not have signed up for a film based on a video game normally, but the story was just too compelling to pass up.
This self-proclaimed "car guy" even got a deeper appreciation for all things automobile. "Not only is it a fun ride, it's a great story that's character driven. I was instantly invested in these characters from the first ten pages," Paul said.
That, and the fact that he got to drive the world's most amazing cars at high rates of speed!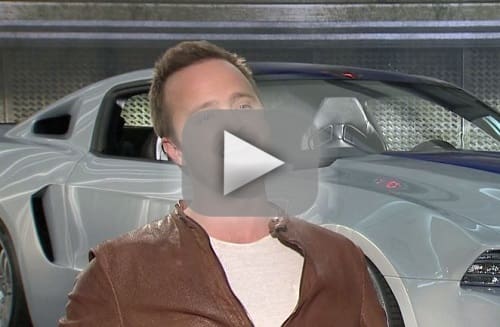 As teased in the Need for Speed trailer, what sets this film apart from other films that use CGI effects with their stunt teams (as seen when you watch Fast and Furious 6 online) is that this is all practical. Paul, and co-stars such as Dominic Cooper, had to go to speed racing school so that they could make it as real as possible. What the audience sees, is what was filmed.
"Our director for this project (Scott Waugh) said, 'I don't want to lie to the audience. I want them to know that you're the one behind the wheel of these cars.' So, I had to practically get … certified as a stuntman. [It] was so much fun!"  
Movie Fanatic has seen it, and it is utterly impressive. See Need for Speed March 14 and see how cars are meant to be captured on film.
Paul also dishes in our above interview what his fans can expect him to do now that Breaking Bad has left us gasping for air!