Need for Speed Exclusive: Director Says Aaron Paul Is Next Steve McQueen
by Joel D Amos at . Updated at . Comments
When we met Scott Waugh and got a preview of his racing epic Need for Speed several months back at his studios in Culver City, California, he said something that stuck with us. He compared star Aaron Paul to icon Steve McQueen.
McQueen starred in a few movies that featured him driving fast (one is included in our 11 car racing movies that meet our need for speed). So when we caught up with Waugh (and stunt coordinator Lance Gilbert) for an exclusive video interview… we wanted to know why he thinks Paul is that guy.  
"He's the kind of actor that if this was a shallow movie, he would never do it," Waugh admitted about the film's strong story. "He has so much integrity as a person and as an actor that it shines through in his performances. He brings that sexy new dangerous leading man that Steve McQueen had."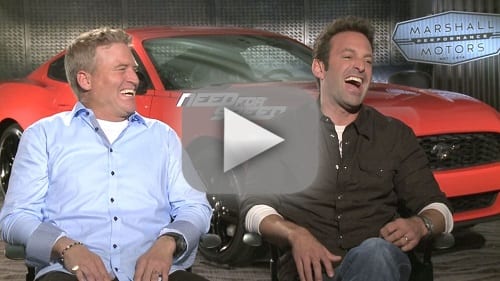 Waugh and his stunt coordinator also tell us what stunts were maybe considered too dangerous given how the helmer wanted this film to be filmed practically with no computer graphics. Watch the Need for Speed trailer and you'll see what we're talking about when we say that this film pushes the envelope… and boundaries.