Oldboy DVD Review: Josh Brolin Rivets in Spike Lee Revenge Tale
by Joel D Amos at . Updated at . Comments
Oldboy landed in theaters as the most unusual of Thanksgiving weekend films. It is in no way a family flick, which is usually what hits around the holidays. But, regardless, the Spike Lee film starring Josh Brolin -- who gives the performance of his career -- is a stunner and is now out on DVD, Blu-Ray and digital download.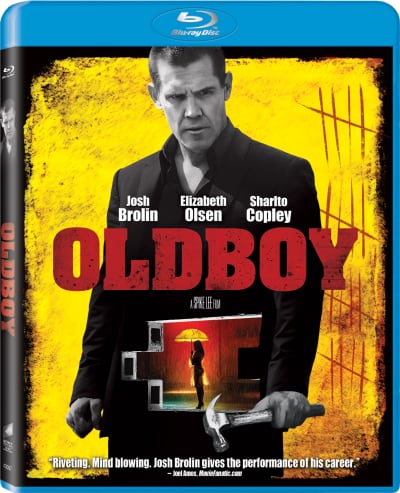 Brolin stars in the remake of the 2004 Korean classic as a man who is not the nicest guy. That does not mean he deserves what happens to him. He is kidnapped as news breaks that his wife has been murdered. Brolin is the lead suspect and yet he disappears. The audience meets him as he is locked in a room that looks like a hotel room frozen in time from the 1970s.
It is the small TV, whose content is controlled by those who kidnapped him, that provides him with the news that his daughter is orphaned and is growing up thinking it was her father who committed the crime.
Brolin plays his character completely like a schlub. He soon realizes he is the controller of his own destiny and begins working out. See, if he gets out… he will extol revenge like the kind humankind has never seen.
Inexplicably, he is freed. As seen in the Oldboy trailer, he emerges from a trunk in a field and has to find his way back to the city where he once lived. It's been 20 years. He's a fugitive. But one thing is for certain: Brolin will find those who did this to him and his family and they will never be the same.
As we stated in our theatrical Oldboy review, Lee has never made a movie quite like this and it is a stunner -- even possessing a twist that will completely and utterly blow your mind. What adds to the power of viewing the movie itself is the Oldboy DVD and Blu-Ray bonus features.
It is one of our 11 plot twists we didn't see coming!
The Making of Oldboy is a fascinating look at Lee and how he works. It is especially unique because this is not a "Spike Lee Joint" and he is very much a director for hire. It is terrific to see him free to do what he wants, without worrying about his "brand" or what his fans will think of this particular project.
Transformation is the other bonus feature that truly mesmerized. Brolin lost 50 pounds as part of his turn from frumpy ad exec to fierce agent of vengeance and the featurette chronicles how the Oscar-nominated actor managed to do it in such a short amount of time due to the demands of the shooting schedule. It is, if nothing else, a study in commitment to a role!
And speaking of how he got in shape… this Oldboy clip that is a promo for a fictional workout video that Brolin watches in the film, is also on the DVD and Blu-Ray!
The entire DVD and Blu-Ray package firmly knows the universe that Lee has crafted. When you finish viewing the entire Oldboy DVD and Blu-Ray, the viewer is left feeling like you are still in Lee's world. Just don't order the dumplings and be sure to watch Oldboy online!