Whether you want it or not, a remake of Scarface is coming soon. Until now, it had just been a theory over at Universal that another Scarface tale was in the works, but with the announcement today that director Pablo Larrain (No) signed to direct, this is a sure thing.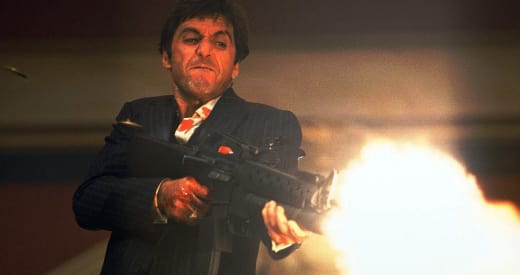 You might be saying, "Sacrilege!" After all, many consider the Brian De Palma-directed/Al Pacino-starring film a classic that is not to be touched. But, their Scarface is actually a remake itself.
So, there is something about this story that is conducive to getting remade.
The original dealt with the rise of organized or "mob" crime elements in our society. Of course, the Scarface of Pacino fame dealt with the rise of drug cartels in this hemisphere and Pacino's character was the embodiment of that.
The word is that this latest Scarface will feature a lead of Mexican descent and perhaps it will center on the Mexican crime epidemic that is spilling over on American border towns across the Southwest.
Also of note… someone who has done a terrific job of penning crime dramas, Paul Attanasio (Donnie Brosco), has been hired to write the screenplay. 
Love the Pacino one? Watch Scarface online and don't miss our Scarface quotes!