Teenage Mutant Ninja Turtles Teaser Trailer: Heroes Aren't Born
by Joel D Amos at . Updated at . Comments
The teaser trailer for Michael Bay's Teenage Mutant Ninja Turtles is here! Check out the first footage from the highly anticipated reboot of the popular franchise. 
The footage shows William Fichtner as Shredder, and Megan Fox as April O'Neill. Much of the scenes involve our favorite Ninja Turtles moving so fast, it's hard to see (which is a good thing).
But, there is a killer look at Michelangelo!
Teenage Mutant Ninja Turtles
also stars Will Arnett (recently seen uttering those awesome
The LEGO Movie quotes
) and arrives August 8.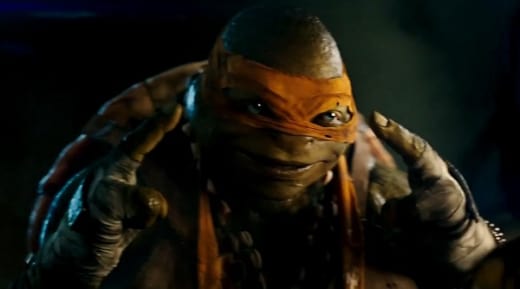 Paramount has also unveiled the film's official synopsis:
The city needs heroes. Darkness has settled over New York City as Shredder and his evil Foot Clan have an iron grip on everything from the police to the politicians. The future is grim until four unlikely outcast brothers rise from the sewers and discover their destiny as Teenage Mutant Ninja Turtles. The Turtles must work with fearless reporter April and her wise-cracking cameraman Vern Fenwick to save the city and unravel Shredder's diabolical plan.
Check out Fichtner's last movie when you watch The Lone Ranger online... made with Bay's frequent collaborator, Jerry Bruckheimer!