Terminator Genesis: Arnold Schwarzenegger Says His Character "Ages"
by Joel D Amos at . Updated at . Comments
Some may be wondering how Arnold Schwarzenegger can return to his cyborg self with the upcoming Terminator Genesis that has cast Jai Courtney as Kyle Reese. As he has clearly aged in real life, how can the action hero (recently seen in our Sabotage exclusive trailer) play someone who is a machine that doesn't age?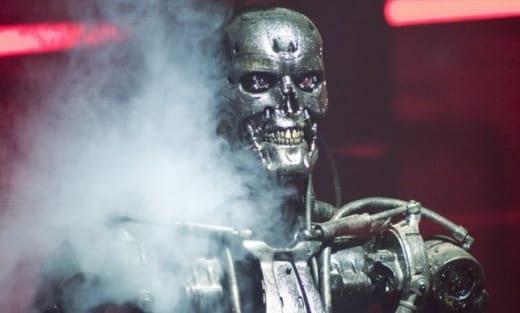 "The way that the character is written, it's a machine underneath. It's this metal skeleton," Schwarzenegger told MTV.
"But above that is human flesh. And the Terminator's flesh ages, just like any other human being's flesh -- maybe not as fast -- but it definitely ages."
Schwarzenegger also teased a bit with what to expect from the fifth Terminator film, other than what he said previously about it "feeling like Terminator 2."
"Terminator deals a lot with time travel, so there will be a younger T-800, and then [there is] what that model does later on when it gets reprogrammed, and who gets a hold of him," Schwarzenegger said excitedly.
"So it will be all kinds of interesting twists in the movie."
Head back and see how it all started and watch The Terminator online.
Terminator Genesis is set to hit theaters on July 1, 2015 and will be helmed by Thor: The Dark World's Alan Taylor.