The Book Thief is based on a bestselling book and love of all things the written word is evident on every frame of the film. Geoffrey Rush and Emily Watson star as parents living in Germany during World War II who adopt an orphan (Sophie Nelisse) as the winds of war become increasingly unavoidable and dangerous.
The Book Thief made a successful leap to the big screen late last year and now has arrived on DVD, Blu-Ray and digital download.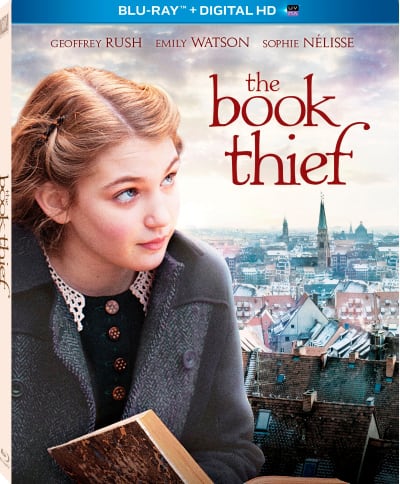 As stated in our theatrical The Book Thief review, the trio of actors make a terrific onscreen family that we truly care about -- particularly when peril begins to rear its ugly head.
What truly makes this film charming is its celebration of the joys of reading. Nelisse's and Rush's characters have a rough understanding of reading, but over the course of the film, they discover their shared passion for books.
Thus, when the Nazis begin their assault on culture with massive book burnings and the sort… we get our title. Nelisse steals books so they won't be burned. It's a touching tale, and in the hands of Brian Percival, it is handled with grace, suspense and most importantly… hope!
There are hundreds of World War II films (watch Inglourious Basterds online for one), but what sets The Book Thief apart is how the film takes place in Germany and covers the Third Reich's effort to rid the world of the written word.
That fact is explored brilliantly in the bonus feature A Hidden Truth: Bringing The Book Thief to Life.
The cast and crew chime in on why this film was important for them to make and also how important it is for audiences to see it. It would be too easy for us to forget or simply leave what the Nazis did with their assault on human culture in the past. The Book Thief brings it to life in a manner that is both entertaining and enlightening.
An Inspirational History also compels in its ability to show that although this is a work of fiction, there are many examples of these types of things going on throughout the war. We were also drawn to the featurette Finding the Thief and Her Family. It could not have been easy to find Nelisse and she shines.
Deleted scenes are also included, as are two rich featurettes, Bringing the Past to Life and The Legend and the Music.
And… you can watch The Book Thief online, right now!