The Raid 2 Exclusive: Gareth Evans on Those Mind-Blowing Stunts
by Joel D Amos at . Updated at . Comments
The Raid 2 is something to behold in that director Gareth Evans has truly taken the action movie genre and practically put it on steroids, which is teased in this The Raid 2 trailer and clip!
We caught up with the man behind the film, Evans, and his star Iko Uwais for a video exclusive interview to explore -- frankly -- how on earth he did what he did!
Evans first gained our notice when he released The Raid: Redemption, which landed near the top of our list of 19 action movies that changed everything.
The story follows an Indonesian undercover policeman who infiltrates a crime syndicate in hopes of bringing them down. And we are not exaggerating here: It is literally one man against a whole city's worth of criminals!  
Of all the action scenes that Evans and Uwais had to shoot, we ask them which was the most difficult. Their answers and more are below in our exclusive video Q&A.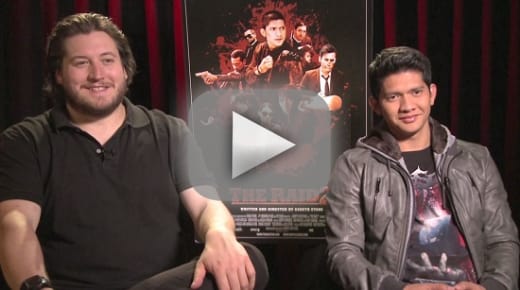 Get ready for The Raid 2 and watch The Raid: Redemption online!