Transformers Age of Extinction IMAX Poster: Here Comes the Boom
by Joel D Amos at . Updated at . Comments
Hot on the heels of that Transformers: Age of Extinction trailer, Paramount has released a poster that celebrates the Michael Bay film's arrival on IMAX screens June 27.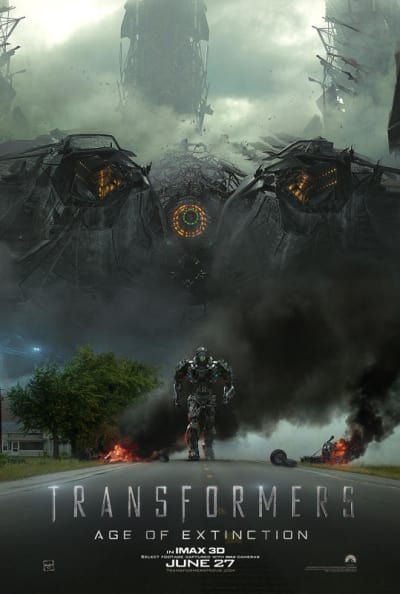 Bay has stripped his franchise of all its stars -- most notably Shia LaBeouf, Tyrese Gibson and Josh Duhamel -- and focused his story on a rural father of two, played by Mark Wahlberg.
Given the enormous nature of the Transformers franchise, it is a match made in heaven that the film is landing in 3D and 2D on IMAX screens, the largest available.
Whether audiences will turn out for a fourth film in the franchise is still uncertain. Given the success the third film had, even with mediocre to bad reviews, it leads us to believe that the fan base for Transformers simply enjoys the thrill of watching enormous toys come to life to trash our planet!
What did we learn about the story for Transformers: Age of Extinction from that trailer? Click through the below slideshow and see!