Sure, getting a Kickstarter campaign to fund a leap from the small screen to the big screen may be the headline concerning Veronica Mars. But, at the end of the day, what we witness on screen is one fascinating murder mystery with layers that go as deep as the Pacific Ocean that touches the story's setting of Neptune.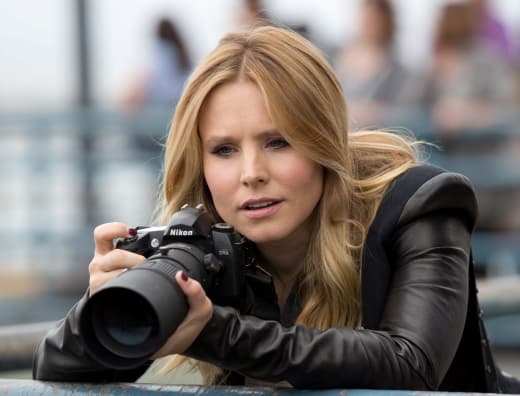 And that is the takeaway, regardless of how we got here. Veronica Mars could easily be a movie franchise with what creator-director Rob Thomas has presented on screens.
Kristen Bell is back as Mars and the film does a great job with the Veronica Mars first two minutes catching everyone up to speed. For both fans of the show and for newbies to the universe of the then high school student Mars and her days of being a private detective with her father (the always terrific Enrico Colantoni), by the third minute of the movie... the audience is ready for the next chapter. Adequately and sufficiently informed of where we were, where we are and where we are going, the story gets going.
Mars has left her home and her father behind and we meet her in New York City. She is living with her boyfriend, Stosh 'Piz' Piznarski (Chris Lowell) and they are happy with having left Neptune behind. Our heroine has graduated law school and is interviewing at some of the top firms. Then, there's breaking news and it involves her old flame Logan (Jason Dohring). He's been charged with the murder of his girlfriend (a fellow Neptune High alum!) and he needs Mars' help.
Mars immediately flies home and it becomes clear that all is not what it seems in Neptune. And that is not just because Mars does not want to go to her high school reunion (which just happens to be this same weekend). And it's not just the case against Logan that's fishy. The local cops appear to be corrupt. Fake friends seem even faker… and that is just the tip of the iceberg.
The Veronica Mars movie succeeds by not abandoning what made it so charming to begin with on the television screen. Yet, Thomas and his team have impeccably made the leap to the silver screen by using color tones with his film that impeccably fit the noir quality that the show's storylines always possessed. The themes that made the show a hit are all still intact, and in fact, have grown even deeper.
The interpersonal relationships are beautifully written, from Mars' relationship with her father, to her boyfriend and the prickly nature of her time with Logan. And then there's the mystery, which is truly why the audience is showing up. It is rich with twists and turns and Thomas has weaved a web that will keep you guessing until the bitter end. Our Veronica Mars review finds the entire experience wholly satisfying on so many levels.
And as told to us in our Kristen Bell exclusive interview, we can see how it concludes would leave us wanting more Veronica Mars cinematic chapters. In fact, it truly is set up to be a series of movies and we cannot hope more that it does in fact get the chance to do just that.