Walking with Dinosaurs DVD Review: Now That's Old School!
by Joel D Amos at . Updated at . Comments
Walking with Dinosaurs first stormed into theaters in dynamic 3D and on IMAX and was a true visual treat. Now that Walking with Dinosaurs is out on DVD, Blu-Ray and digital download, the question has to be asked: Does it hold up?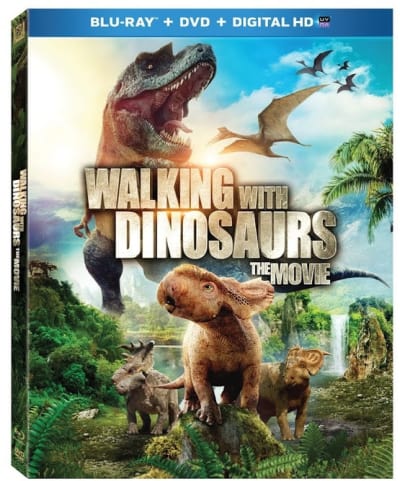 The answer is yes. Yes, it does. Whether on a small(er) screen or large one, the story of Walking with Dinosaurs is enough to keep kids interested. Even more than that, don't be surprised if they start to become obsessed with the extinct former earth walkers when the final credits roll.
And what's also a thrill for parents, is whether on the big screen or your television, the special effects and visuals of Walking with Dinosaurs is a true joy -- as we explore further in our theatrical Walking with Dinosaurs review.
As seen in the above teaser, Walking with Dinosaurs is a mostly animated (there's a live action intro) feature about a small dinosaur who through a series of extraordinary events, rises up to be the leader of his herd. It is just one of many lessons contained in the film that is another thing parents will treasure.
But, when it comes to home video releases that are essentially geared towards children, the bonus features are truly what sets it apart. And as we mentioned prior, the thing about Walking with Dinosaurs is it is sure to have the little ones asking questions. And the extras on this release should nicely start the process of providing informed and entertaining answers.
The go-to for when the film's credits roll has to be Ultimate Dino Guide. The film itself introduces all these species of dinosaurs as their characters are introduced. But the bonus feature Ultimate Dino Guide takes it a step further. It is a highly visual, extremely enlightening feature that should fan the fires of those newly curious and previously intrigued dinosaur fans.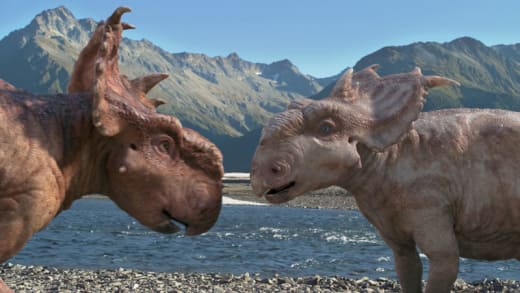 The Interactive Map feature is also nice as it provides a geographical background to not only the film, but to where dinosaurs landed on the world stage. And the Match the Call game is fantastic fun -- we're betting on the kids here in a battle of old versus young to determine which sound emanates from which dinosaur!
And in that vein, the Brainosaur Trivia Track is another facet that challenges the brain and can be one more way for kids to show off their dino knowledge.
We are hoping parents dive into this film, and we even have it for you right now... watch Walking with Dinosaurs online.