A Haunted House 2 Exclusive: Jaime Pressly on Which Co-Star Was Funniest
by Joel D Amos at . Updated at . Comments
When doing a comedy like A Haunted House 2, there is a lot of improv potential on the set and actress Jaime Pressly was more than game. After all, the comedic actress is an utter pro at it, and she even won an Emmy for her work on My Name Is Earl for just being so darn funny.
But, when we caught up with her for our exclusive video interview, we sought to explore two things in the comedy realm: One, who was her biggest comedy influence, and two, which A Haunted House 2 star was the most difficult to keep a straight face in a scene with?
You'll have to watch our interview to get the answer on her comic idol, but when it comes to the comic who cut her up the most on the set? Well, that could probably be seen from his humor in the A Haunted House 2 trailer.
"Getting through the scenes with Cedric (The Entertainer) was tough," Pressly admitted. "He got every one of us!"  
In our video above, Pressly gives some hilarious examples of Cedric's on-set antics and also talks about the joy of being paired with Marlon Wayans as well as what it means to her to be in a Wayans parody movie.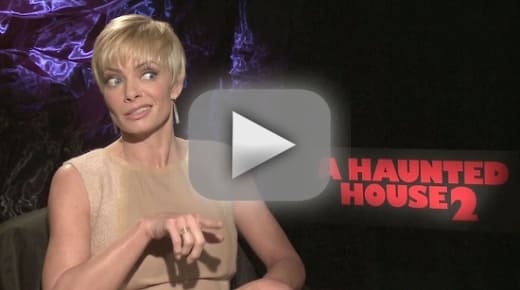 A Haunted House 2 hits theaters August 18, and to get sufficiently ready, watch A Haunted House online.