Avengers Age of Ultron: Paul Bettany on Being the Vision!
by Joel D Amos at . Updated at . Comments
It has been rumored for some time, but it is official that Paul Bettany is the Vision in Avengers: Age of Ultron. He may be a physical newbie to the Marvel world, like Aaron Taylor Johnson as Quicksilver and Elizabeth Olsen as Scarlet Witch, but fans of Marvel know all too well that Bettany is the voice of J.A.R.V.I.S. in the Iron Man trilogy.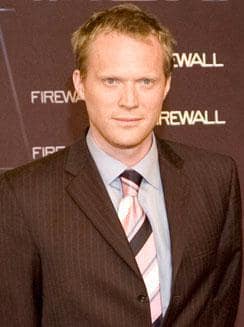 While on Jimmy Kimmel Live promoting his role in Johnny Depp's Transcendence, Kimmel asked Bettany about his Avengers: Age of Ultron part. Of course, he couldn't say too much, but what he did say was certainly entertaining.
"Oh I can do all sorts of things, but I'm not allowed to really talk about them and what we're going to do because there might be a Marvel agent in the room who will actually wrestle me to the ground and fire me," Bettany said.
"It's very exciting for me, but everything is a double-edged sword, right? Because I was playing J.A.R.V.I.S. for years and my job was I would turn up at a recording studio for 45 minutes, do all my stuff, and then they would give me a huge bag of cash and then I'd go home. Now it turns out they've found me out and they want me to actually do something!"
Avengers: Age of Ultron is due in theaters May 1, 2015. Check out Bettany as J.A.R.V.I.S. when you watch Iron Man 3 online.