Brick Mansions Exclusive Giveaway: Win Fandango Gift Card & More!
by Joel D Amos at . Updated at . Comments
Brick Mansions is not only known for sadly being one of the last films that was made before Paul Walker died that featured the star, but it is also known for its prevalent use of Parkour, and it features one of the originators of the martial arts meet acrobatics, David Belle.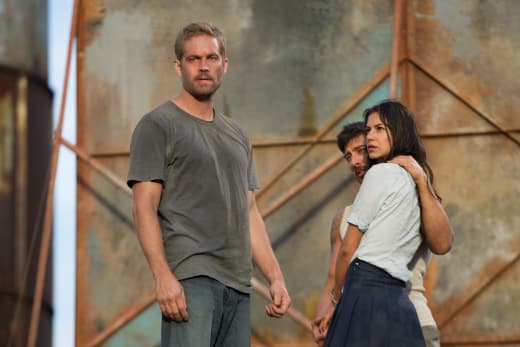 To celebrate the arrival of the film April 25, Movie Fanatic is proud to present an exclusive giveaway. One lucky reader will receive a $25 Fandango gift card to check out the wild action film, as well as Brick Mansions ear buds, a Brick Mansions Hoodie, a Brick Mansions water bottle and a Take Flight Parkour T-Shirt from the company that invented the sport/art form.
Check out the Brick Mansions trailer and you'll get a peek at this wickedly original action film that features Walker as a Detroit cop in the near future. There's a part of town, Brick Mansions, where crime has gotten so bad that the city erected a wall around it. When a hoodlum who runs it (RZA) threatens the city with a dirty bomb, Walker must infiltrate the violent, walled-off part of the city and save the day.
It is through the help of someone who is already embedded in the area, played by Belle, that he might just stand a chance!
Brick Mansions is based on the screenplay Banlieu 13 by Luc Besson and Bibi Naceri.
Check out another one of Walker's final films and watch Fast and Furious 6 online. 
To enter, use the widget below to enter on Facebook or Twitter. There are three unique ways to enter, and by entering all three ways you can increase your chance at winning! We will select our winner at random on May 2, so enter now! And our winner must reside in the U.S.