Brick Mansions features Paul Walker in action. Walker gets to fight in some elaborately choreographed scenes and even gets in some driving action that will make his millions of fans smile and shed a tear at the same time. But, the action star here is truly Frenchman David Belle.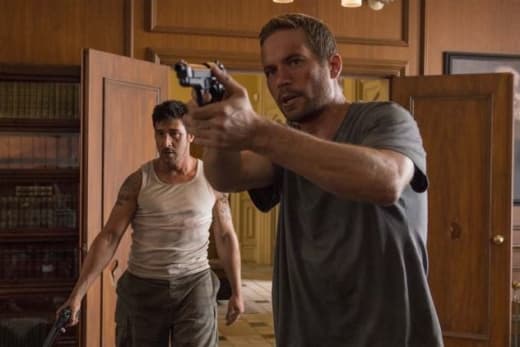 Belle, as one of the founders of Parkour, should surprise no one that he dazzles on the screen with his ability to break the rules of gravity in the most beautiful of ways. For those familiar with his work as a film choreographer and stunt coordinator, serving as the true action hero of Brick Mansions should pretty much be a given.
Brick Mansions is based on the French film District B13 and is from screenwriters Luc Besson and Bibi Naceri, who penned the original. In the American version, directed by Camille Delamarre, the action shifts to Detroit where Walker is a cop who, we learn, has lost his father to the violence of the Brick Mansions.
What are the Brick Mansions, you ask? It is an area of the city where crime got so bad that the city built a wall around it and pretty much left it to its own devices. But, when a threat is posed from inside Brick Mansions that affects the citizens of Detroit, that's when the cops get involved (as best they can.).
Walker is asked to head into Brick Mansions because a crime lord who runs the city, played with perfect panache by RZA, has a dirty bomb and he's threatening to send it into the heart of Detroit. The only thing is this man who usually works alone (Walker) has to team up with someone on the inside, and that man is Belle's Lino.
The plot itself doesn't quite hold together throughout the film. And some things that are integral to the perceived threat to the city do not add up. And what is the film's biggest crime is a major character changes their modus operandi two thirds of the way through that honestly makes no sense whatsoever.
Overall, Brick Mansions is a decent film, but the reason to see it is its extravagant action sequences.
Just as we stated in our The Raid 2 review about that film, there are action films that come along that are benchmarks. And although the drama suffers under a convoluted plot, our Brick Mansions review believes that thanks to the work of Belle and his stunt sequence partner in crime, Walker, this film will change things when it comes to action movies and how they're made and executed in Hollywood.