Dawn of the Planet of the Apes: Keri Russell Took Role to "Play with Baby Ape!"
by Joel D Amos at . Updated at . Comments
We caught up with Keri Russell at WonderCon and got to ask her about her upcoming film, the highly anticipated Dawn of the Planet of the Apes.
When we saw over 20 minutes of footage from the flick, one thing struck us: Seeing Russell play with Caesar's baby. That had to be a draw for the actress, being able to act alongside one of the cutest creatures on the planet.
One would think so, but… well, let's let Keri tell it.
"This is the sad, sad truth. So I read the script and I was like, 'I get to play with the baby ape. That's the best scene and I get to do it.' We were out in this idyllic place in Canada and we've about to shoot that scene… no baby ape," Russell said with disappointment.
"No baby ape, not even one to look at! I said, 'Where is the best part about doing this movie?!' They told me to just imagine it!"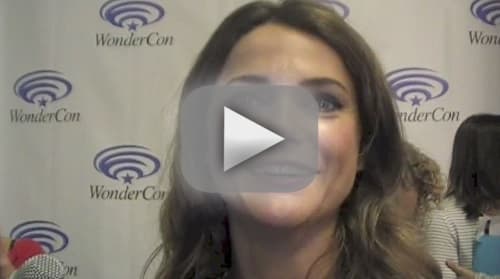 Despite that misfortune, Russell told us that she is more than thrilled with the work she did – teased in the Dawn of the Planet of the Apes trailer. And that she was truly drawn to this story of a world where highly evolved apes and humans live side by side, albeit with one hand on a weapon.
Her character, along with her onscreen husband played by Jason Clarke, believes they can live together. Gary Oldman, on the other hand, thinks all the apes should be dead.
And that, well, that is just the beginning of the Dawn of the Planet of the Apes thrill ride. 
Look for Dawn of the Planet of the Apes in theaters July 11. Before re-entering the "Ape" world, watch Rise of the Planet of the Apes online to get up to speed.