Draft Day Exclusive: Jennifer Garner Talks Being a Football Fanatic
by Joel D Amos at . Comments
As a little girl growing up in football crazy West Virginia, Jennifer Garner was swept into the frenzy that is loving the game. Given that fact, you can imagine her utter glee at starring in the football film Draft Day -- out April 11.
"As a sports fan and a sports movie fan, to be in a movie about football with Kevin Costner," she said in our exclusive video interview as her voice went up a few octaves, "that's the coolest thing of all. He is the best at this in the world."
Garner also reveals to us her favorite football movie and interestingly enough, she didn't hesitate to answer. Can you guess what it is?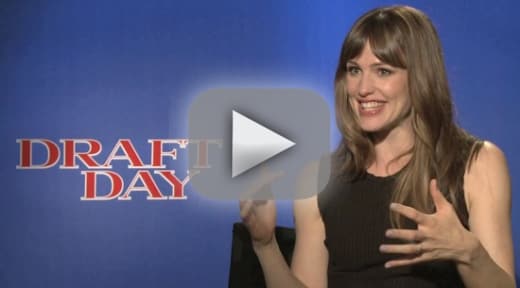 The actress also answered our question: Who would she draft as number one to be her top pick as her next co-star from a field of performers that she had never worked with before?
Can you guess who that would be?
As seen in the Draft Day trailer, Garner is a lawyer (in charge of keeping the team within the salary cap – who also is in a relationship with Costner's character) with the Cleveland Browns. And it's on this day that General Manager Costner has to make a pick that could make or break his team's future in the Ohio city.
Fan of Garner's? Us too, why not see more of her magic and watch Dallas Buyers Club online!