Grudge Match DVD Review: Stallone & De Niro Get Back in the Ring
by Joel D Amos at . Updated at . Comments
Grudge Match, on paper, might seem a bit far-fetched. But, as we stated in our theatrical Grudge Match review, the idea of Sylvester Stallone and Robert De Niro playing aging former boxers who get in the ring to settle a titular score, surprisingly works.
Now Grudge Match is out on DVD, Blu-Ray and digital download, and above all else, it is truly a gift for boxing fans the world over.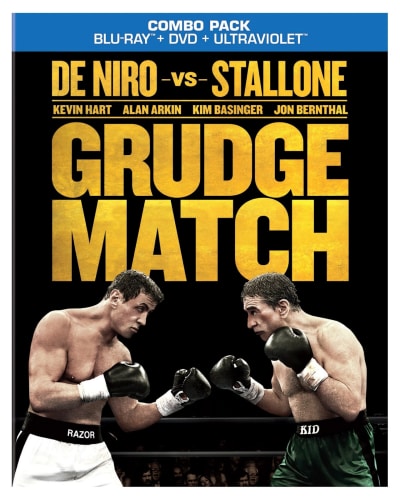 Stallone and De Niro have the fortune of having famously played boxers in films before in Rocky and Raging Bull. As such, Grudge Match director Peter Segal has footage from those films to CG together and make it look like this 30-year-old rivalry that never decided a true winner really happened. In fact, some of it (especially Raging Bull) has never been seen before now!
See, Stallone is Henry "Razor" Sharp and De Niro is Billy "The Kid" McDonnen. They are a pair of Pittsburgh boxers who fought twice back in the day. Their rivalry ignited passion for the sport that made them international sports stars. But, on the eve of their third and deciding bout (after each won one of the previous fights), Razor pulled out inexplicably and retired.
The film is light on drama -- as it should be -- and the comic potential is high given the story of two guys well past their prime heading into the ring.
The entire idea of the rematch all these years later comes from a promoter played by Kevin Hart (outstanding as usual). They're putting together a video game of classic fights, and a fight that breaks out between the two former champs in their motion capture suits goes viral. Hart sees dollar signs. De Niro seeks revenge and Stallone… well, he's a harder sell.
As teased in the Grudge Match trailer, the boxing scenes that close out the film are expertly shot and believable. Yes, they're believable!
But as we stated, the Grudge Match DVD and Blu-Ray is truly a gift to boxing fans and that is because of the extraordinary bonus features. And there's also a few fantastic features that show off the comic genius of Hart and why he's one of the most in-demand comedic actors working today.
First and foremost, the stars who are no stranger to boxing flicks get the spotlight in The Bull & The Stallion. It looks at De Niro and Stallone's cinematic history in the ring and it is pure joy.
Both Ringside with Tyson & Holyfield and Blow for Blow with Larry Holmes are priceless features that give real-life boxing insight from former champs Mike Tyson, Evander Holyfield and Larry Holmes. Didn't we say this was a boxing fan's home video dream?!
Then, Hart shows off his brilliance in two features (beyond his killer Grudge Match quotes), In the Ring with Kevin Hart and Kevin Hart Unedited. Both features need to be watched to be appreciated as Hart continues to outdo himself in the comic arena on screen.
The Alternate Opening and Alternate Endings are interesting, and certainly add something to the entire joy that is the Grudge Match DVD, Blu-Ray and digital download.
Watch Grudge Match online and enjoy this De Niro and Stallone battle -- right now!