Heaven Is for Real Exclusive: Greg Kinnear Explores Real Faith
by Joel D Amos at . Updated at . Comments
Actors love long stretches of screenplay where they get to flex their thespian muscles.
In Heaven Is for Real, Greg Kinnear plays a pastor who gets to give a few sermons that any actor would appreciate diving into. That was a nice aspect, but there was much more to the true story of the Burpo family that had Kinnear eager to join the project.
"I've never played a pastor before," Kinnear told Movie Fanatic in our exclusive video interview. "You learn very quickly -- when you face an audience of four or five hundred people in a church -- the vulnerability of that."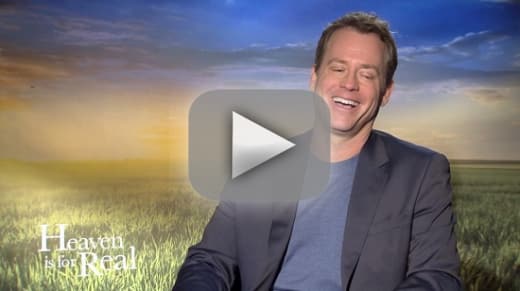 As shown in the Heaven Is for Real trailer, Kinnear is Todd Burpo and one day he and his family's faith is challenged when their little boy barely makes it out of surgery. Upon waking up, he talks of being in heaven. Given that Burpo is a pastor, there are some interesting questions that emerge. But, things the Burpo boy describe, he could only know and see if something extraordinary happened.
Kinnear found a kinship with the man he plays, the Burpo patriarch. "I'm from a small town and people wear different hats. Yeah, he's a pastor. But he's also a father. He's a wrestling coach. He's also a volunteer firefighter. There was a more interesting composite of a guy there that felt real to me."
Heaven Is for Real opens everywhere April 16.