Heaven Is for Real Exclusive: Thomas Haden Church Talks Faith in Film
by Joel D Amos at . Updated at . Comments
Thomas Haden Church (Spider-Man 3, Sideways) stars in Heaven Is for Real and identified with the story on so many levels. He had read the book that the movie is based on that tells the true story of a little boy who heads into a life threatening surgery and comes out of it insisting he's been to heaven.
Church too, like the Burpo family in the film teased in the Heaven Is for Real trailer, is from a small town, and also shares a deep passion for his faith -- something he saw in his character of a friend and follower of the Greg Kinnear-played pastor/Burpo patriarch. "This is a guy who has a similar spiritual view," Church said in our video exclusive interview.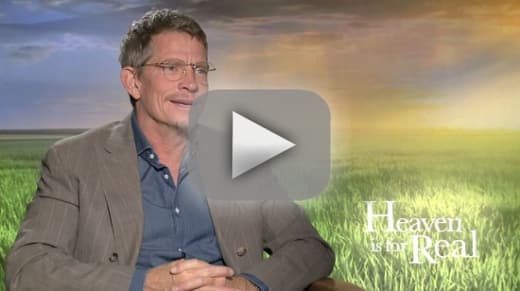 Church was also eager to finally, after circling similar projects for years, be able to star with Kinnear. "Huge Greg Kinnear fan, thrilled he was on board." 
Overall in our interview, you get the incredible sense of Church's strong faith and that this story was one that was important to him. His character has trouble with the announcement that the Burpo child has seen heaven and that even challenges his beliefs.
"It gets you to look at your intentions, and your path," Church said. "Are you unwilling to believe what a five-year-old's spiritual journey was?"
Good question, that and more will be answered as Heaven Is for Real is in theaters now.