Heaven Is for Real arrives in theaters starring Greg Kinnear as Todd Burpo, the father of a four-year-old boy who emerges from life threatening surgery saying he went to heaven. The film is based on the beloved bestselling book Heaven Is for Real: A Little Boy's Astounding Story of His Trip to Heaven and Back by Burpo, and it is brought to the screen by Oscar-nominated writer and director Randall Wallace.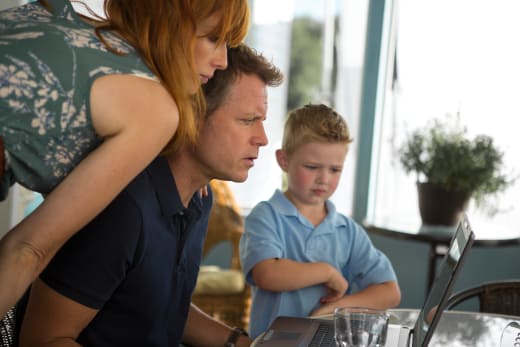 When Colton Burpo (an insanely adorable Connor Corum) becomes ill with a ridiculously high fever, his parents rush him to the hospital. He is rushed into surgery as doctors learn that his appendix had burst.
A man of faith -- Todd is a pastor -- this is a defining moment for him. He heads into the hospital's chapel and gets downright angry with God. He even kicks a few chairs before storming out. His wife (Kelly Reilly) takes solace in calling friends from her family's church (including the always outstanding Margo Martindale and Thomas Haden Church).
Colton awakes and a community's prayers are answered.
Some time later, Colton talks of going to heaven and meeting Jesus. His parents think it's either a testament of their young child's faith or a vivid dream caused by the effects of anesthesia. But, then he describes going above himself in the OR, seeing his father get angry at God in the chapel and his mother crying on the phone with friends. He describes other things too that there is no way a four-year-old would have known about or seen.
As teased in the Heaven Is for Real trailer, the film paints a picture of how a people who are faithful to the gospel of God would react to such a thing. People in the community of their church are threatened by it. Colton's father sways back and forth between not believing his son and feeling horrible because what does that say about his own faith -- especially considering he's a pastor to hundreds.
The film as a whole has a fantastic message. We just wish it was delivered in a more powerful manner. The blockbuster book's fans deserve much better. The performances are great all around, especially Kinnear and Corum. And Wallace is a supremely talented storyteller. Something just happened on the way from Burpo's book to the screen that finds Heaven Is for Real missing the power that it had on the page.
Our Heaven Is for Real review finds that those moved by Burpo's story will appreciate the film. It's not horrible. It's just that it could have been so much better.