Magic Mike 2: Channing Tatum Promises "Everyone's Back"
by Joel D Amos at . Updated at . Comments
When it was announced a few weeks ago that Magic Mike 2 is a go, fans responded in droves with joy. Although original director Steven Soderbergh will only serve as a producer and his longtime first assistant director, Gregory Jacbos, will direct Magic Mike 2, the best news is that star and creator Channing Tatum says that "everyone's gonna be back."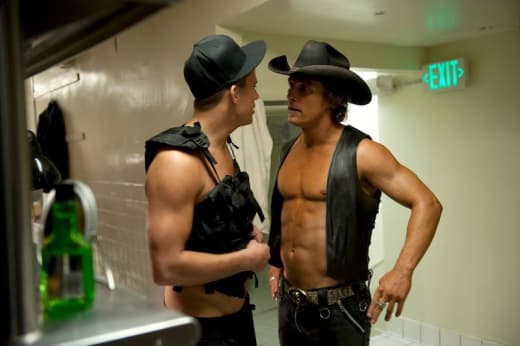 In an interview with MTV, Tatum said that he is writing the screenplay with his partner Reid Carolin and they are quite far along in having this Magic Mike 2 screenplay ready to go. 
"We started writing probably like two months ago," Tatum said. "With my partner Reid I was like, 'Ah it'll write itself, it's fine' -- not the case! Not the case at all."
Look for production to start sometime in the fall, or at the least by the end of the year. And although Tatum is cautious, he thinks that everyone from the first movie will be back… even Mr. Oscar winner, Matthew McConaughey. "Obviously no one's deals are done which is always kind of scary," Tatum admitted.
The star also dished what fans can expect from a Magic Mike 2.
"This one will be a road trip movie. Without giving a lot away, we don't wanna make it a really serious, slice-of-life movie. We want to have reality in it, but we don't want to make it some dark drama," Tatum said.
"There was some darkness in the last one that I think surprised people and shocked people. This one, we want there to be a lot of conflict and a lot of struggle, but we also want there to be a (expletive) ton of fun -- a (expletive) ton of just ridiculous stuff that you would never see in a movie."
Watch Magic Mike online to remind ourselves why we're so excited for Magic Mike 2 when it lands July 3, 2015!