It has been a frustrating legal issue for fans of the Marvel universe -- the fact that different studios own different properties within the comic book world.
Fox owns everything X-Men, while Sony has the Spider-Man property and Disney has everything else. Given that aficionados of comic books know that, for example, Spider-Man has been known to be in The Avengers and Wolverine too, we have been clamoring for the studios to work it out for years so that crossovers can happen.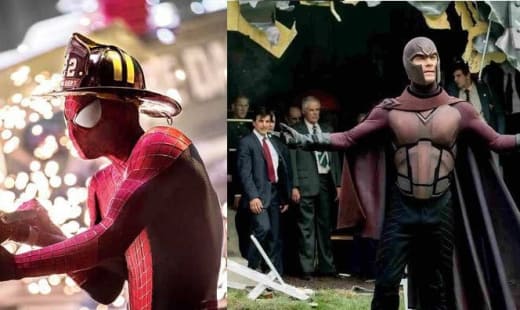 In a move that is uniquely puzzling, news arrives today that a clip from X-Men: Days of Future Past will play at the end of The Amazing Spider-Man 2 when it hits theaters May 2.
This is highly unusual because it's not like these two properties have much intermingling. And previews, as anyone knows who goes to the movies, usually appear before a film. Anything after, like a post-credits sequence, is always meant to tease something else the studio has coming down the line.
Like at the end of Captain America: The Winter Soldier, we got an Avengers: Age of Ultron tease. At the end of Thor: The Dark World, we got a Guardians of the Galaxy tease. But, those all live within the walls of the Mouse House at Disney.
But, for Sony to allow a Fox tease by letting an X-Men: Days of Future Past clip appear after their The Amazing Spider-Man 2 is exciting, but doesn't really make much sense.
Or does it?
Could it be that a deal has been worked out between Sony and Fox to work together with their superhero worlds? When we spoke to Kevin Feige at the Captain America: The Winter Soldier junket, he admitted that he has very little to do with the X-Men and Spider-Man worlds. Could it be that Sony and Fox have joined forces to team up against Disney and Marvel's fruitful collaboration? Who knows… but I guess time will tell.
Either way, it is a sign that things are heading in the right direction. Movie Fanatic has always felt that it was utterly strange that the studios have not worked together on their Marvel properties. It's not like there isn't enough money to be made for everyone!
And if Paramount and Fox can join forces to release Titanic and other studios have done the same over the years, why not with Marvel properties?
Like we said, it is a step in the right direction and you heard it here: Don't move after the end of The Amazing Spider-Man 2 because you'll get a taste of X-Men: Days of Future Past.
Check out the latest X-Men: Days of Future Past trailer that debuted earlier today and see the latest X-Men movie when you watch X-Men: First Class online and the same with Spidey when you watch The Amazing Spider-Man online.