Oculus proved to be a solid horror hit this past weekend at the box office, coming in third behind the powerful Rio 2 and the monster that is Captain America: The Winter Soldier.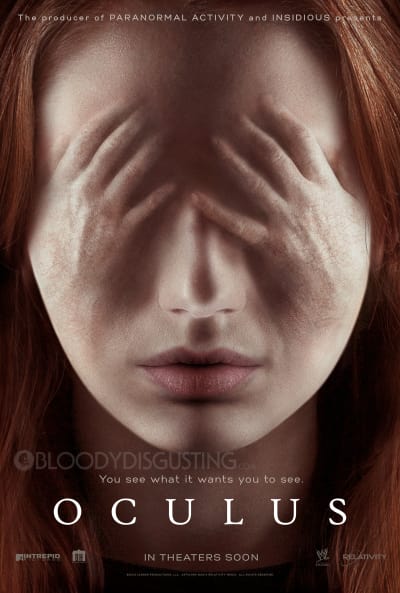 We caught up with Oculus producer Trevor Macy to get the inside scoop on the journey of this wildly original idea and how it came to be, and also how the cast (including Katee Sackhoff and Guardians of the Galaxy star Karen Gillan) came together to create a wicked thrill ride that has shook up a genre that oftentimes can be quite stale.
Movie Fanatic: As I stated in our Oculus review, this is one original horror movie. What was it about this story that struck you?
Trevor Macy: The way it came about is I had seen Absentia (screenwriter Mike Flanagan's first film), which was a movie Mike made for $70,000. I felt it was remarkable in how it sustained the tension. That's hard to find, and a director who can do that is worth his weight in gold. Then, either I'm a masochist or I just thought this was going to be a super original movie. I knew it would be difficult to pull off -- you know, the evil mirror movie. But, I thought if we could pull it off, boy, it would be special. Through a lot of cynicism early on in Oculus' life, we powered on and were really happy with it.
Movie Fanatic: How was it for you as the producer to work with someone so green, really, in Mike?
Trevor Macy: The development process with Mike, honestly, was really, really fun. He's a very confident guy and he's very collaborative. He sees things, not only from the perspective of a writer-director, but also as an editor, which inspires a lot of confidence when you're working with a guy like that. It was just buying into his vision that gave me the confidence to get it done.
Movie Fanatic: You mentioned his first work, brilliant film, and I had no idea it only cost $70,000. You must have been excited to see what he could do with even a little more of a budget. What was it about what you saw him do with his first film to what you saw him do firsthand with Oculus that most impressed you?
Trevor Macy: I've never worked with a writer-director-editor before. It was the editorial point of view that gave me the confidence at the script stage that he could pull off the transitions that we contemplated in the script. I don't know if you've seen Lone Star.
Movie Fanatic: I have! Great film…
Trevor Macy: Yes, and we talked a lot about the transitions from the past to the present in Lone Star. We took a lot of inspiration from that, but it's really hard to do. That reference informed Mike's pitch when he talked about going back and forth between the time periods as the movie progresses. We're going to start to play with that so the audience feels more and more discomfort in the same way that the protagonists do. That, to me, was compelling.
Movie Fanatic: Like Lone Star, the key to that time shifting working is the cast. What was it about your main four, and two little kids too, that made them perfect? I mean, especially Katee Sackhoff and Rory Cochrane and also Karen Gillan… all astounding.
Trevor Macy: First of all, all six of them are wildly skilled. It was pretty amazing to watch them. With Karen, there is so much weight on her to deliver essentially a 13-page monologue and really sell the history of the mirror with energy and conviction. Karen sold it to us as she is used to selling abstract concepts and being afraid of things that aren't there because of her time on Doctor Who -- that came in handy. And Katee took a role, and I'm not saying that the role on the page wasn't interesting because it was, but it wasn't as meaty as what Karen had. But, I have to say, in the end, most people feel that role had equal weight. And it was largely due to Katee's performance. And Rory, well, he was spot-on. If you're going to descend into madness, you kind of want to do it with him [laughs].