Karen Gillan stars in Oculus and as such, she had to do her share of horrifying acting in this wildly original haunt-fest. As seen in the Oculus trailer, she is a grown woman whose past is downright horrifying.
When she was a younger girl, Gillan's character lived in an idyllic suburban home with her mother and father (Katee Sackhoff and Rory Cochrane in flashbacks). Things were great, that is until a fateful mirror came into her father's office.  
Then, he started acting really weird, and eventually there was murder and mayhem.
We met Gillan for an exclusive video interview and had to ask after making such a movie as Oculus, if she does look at mirrors differently, and will look at mirrors differently for the rest of her life.
"Mirrors are really creepy now," Gillan admitted. "They used to not be, and now they are. It's taking a really normal life thing and making it scary. That's a great formula for anything."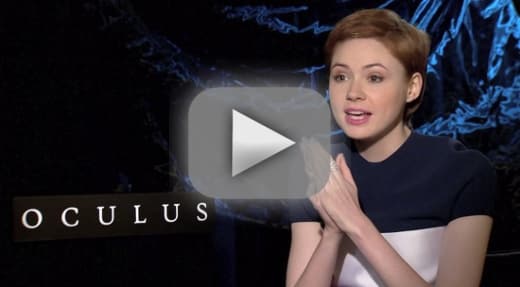 She also let us know, as a huge horror movie fan, what are her favorite scary flicks. Check out the video above and find out!
Audiences will soon see Gillan in Guardians of the Galaxy this August, but for now, prepare to go for one thrilling ride when Oculus arrives April 11.