Oculus: Katee Sackhoff & Rory Cochrane Share Joys of "Unraveling"
by Joel D Amos at . Updated at . Comments
In Oculus, Katee Sackhoff and Rory Cochrane play what seem to be a happily married couple with their two kids.
But, as you can see in the Oculus trailer, when a suspicious mirror arrives in Cochrane's office, he starts to change -- and the horror commences.
We caught up with Sackhoff (most recently of Riddick) and Cochrane (see how far he's come when you watch Dazed and Confused online) to talk about the joys of letting loose on a set that called for it.
Playing the part of someone who goes from completely normal to completely unraveled was what drew Sackhoff to the role. "It was one of the reasons I wanted to do it," Sackhoff said. 
"This complete unraveling of a person right in front of your eyes in so obvious of a way -- I was so excited!"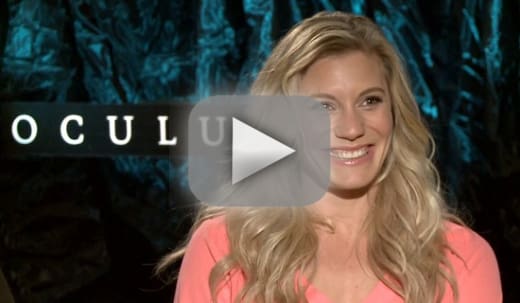 Cochrane concurred. "It's always fun to play an arc. And the one thing about good writing is that they will give your characters an arc that the audience wants to follow. It's always a pleasure," he said.
And he also appreciated that it was a chance for Sackhoff to shine. "It's also rare for a part for women to be written with such an arc."
See Sackhoff killing it when you watch Riddick online and witness how she is just blowing up since Battlestar Galactica ended its mission.
Oculus hits theaters April 11.