When Puss in Boots made his first appearance in a Shrek movie, audiences immediately were taken with the character voiced by Antonio Banderas. Something about those kitty cat eyes, perhaps?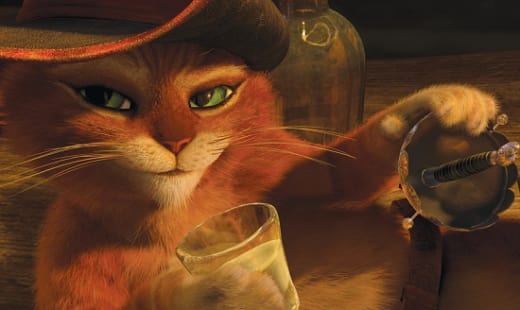 Then, our favorite feline adventurer got his own movie, Puss in Boots, in 2011 and it was a complete and utter smash. Something about the suave cat uttering those Puss in Boots quotes just had audiences enthralled. And the casting of Salma Hayek as his co-star didn't hurt things either.
Now, in an interview with Collider, Banderas has said that he is already at work on Puss in Boots 2!
"We started the new one four days ago," Banderas said.
"It did incredibly well with audiences and critics, all around the world, and the character is going to keep going. With Jeffrey [Katzenberg], whatever he wants. He's one of my favorite producers."
Banderas is eager to return to a character that he has inhabited for over a decade.
"This character was born almost 12 years ago. We have had a lot of fun with him, and it seems that audiences do, too.  So, we're doing another one."
Go back to see how it all started with this charming kitty and his first solo movie and watch Puss in Boots online.